Kanye West Masks – The Best Long Term Love Story of Them All!
It's no secret that Kanye West's fashion sense made it to pop culture. Whatever Kanye wears and flexes is gonna become the hottest trend or controversial topic. And Ye's fashion influence goes beyond Yeezys if that's what you're thinking about. Today though, we're gonna focus on one item that is almost a staple in Kanye's wardrobe: the face masks! Let's check out the history of Kanye West masks and how they became a statement piece.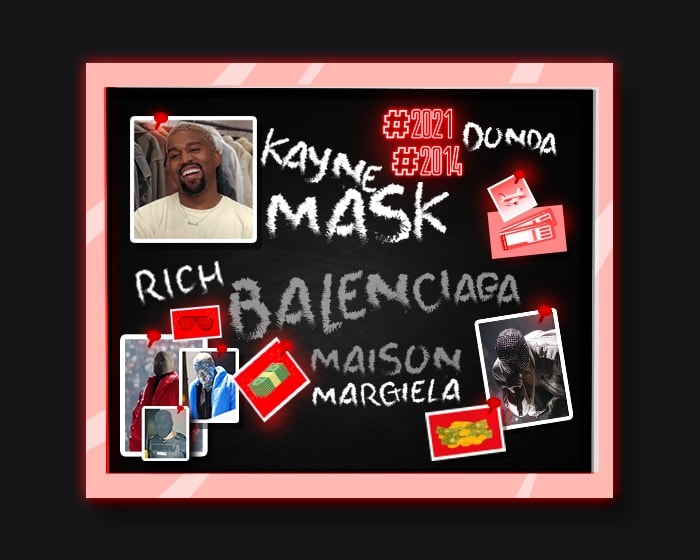 Kanye West Masks – Ego Check, Privacy, or Statement Piece?
Just like everything Kanye does, we can't really give straight reasons for his stunts. But they're usually tied to one of two, either his massive ego or his spirituality. Anyway, Kanye West masks aren't new by any means. Let's just say that the spark around them just reignited! Let's check out the short yet impressive timeline of the face masks.
2014, Mainson Margiela, and Yeezus!
Basically, the Kanye West masks trend began because Ye wanted to make a statement. According to him, a black celebrity had no place on design tables. But he was going to change that, and totally said so in an interview back in 2014! And he did go on to make his own fashion line and some of the hypest sneakers in the industry.
2014 didn't go without us witnessing a great feat though. Ye went through his Yeezus tour while wearing the Maison Margiela face masks 80% of the time. And according to him, people will still pay to go and see him even with his face covered. Bit of an ego boost, but well, Kanye isn't famous for how humble he is, right? Anyway, Ye rocked different face masks made by Maison Margiela.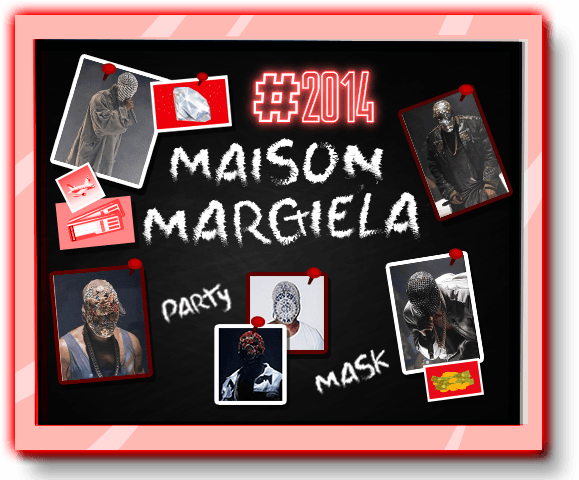 These face masks weren't 100% Ye exclusive though. Maison Margiela actually launched the masks during their FW12/13 runway show. The main goal was to get the audience to focus on the apparel and not the models. This was a way to keep the ego in check, but somehow Kanye flexed the exact opposite!
Fast Forward to 2021…
And the Kanye West masks movement is back! This time though, it's Balenciaga at the design helm. Not only that, but Ye proved the same point he wanted to get across back in 2021. He's still here, he's still the best, and we'll all come and watch even if he has a face mask on! This apparel flex came at the same time as Kanye's "Donda" listening parties. He made several appearances on the different listening events, including when he lived in the Mercedes Benz stadium. And you guessed it, he had masks on every single time!
The face covers ranged from balaclavas to all-black, to skin-toned tight-like masks. There's also the masks that kinda looked like they were an old T-shirt and got some serious recycling. They were rag-like with Renaissance-like drawings that depicted Jesus and angels on them. But trust us, that's not even the weirdest mask he put on.
Ye' Masks in 2021 Are Unmatched!
So we already covered part of 2021. However, some of Ye's latest appearances are so shocking that they deserve a section of their own. On October 19, 2021, Kanye went in public rocking a Balenciaga outfit with a… really really atrocious mask. It's very Halloween-ish and creepy, but not the worst. 
Because a few days before that, Ye was attending a wedding, in which he put on a black mask. That mask kinda reminded us of the Phantom of the Opera. And finally, one more creepy mask came into play when Ye came out in a mask that looks like Michael freakin' Myers!
If We Can't Have Kanye West Masks, We'll Take Yeezys!
And in all honesty? That's a pretty nice deal if you ask us. Yeezys are Ye's brainchild, and if you're interested in street fashion, you'll know that they're the thing to own. And if you're into any sort of Kanye tings, check out our round-up of 2021's best Yeezys here. But if you wanna catch upcoming December releases, to make some good cash flipping them, you're gonna need a sneaker bot! So make sure you check out what you'll need to ensure a higher chance of success using this guide. Godspeed 🔥
Posted in Yeezy 0 comments