Jordan 36 Makes Serious Statements in the Tokyo Olympics!
We're less than 10 days away from the Tokyo Olympics, and it's the gift that keeps on giving. From new competitions making it to the sports roster to awesome sneakers, we're all here for it. Did you check out the awesome Nike SB Dunk Olympics lineup? I mean, if these ain't releases to die for, we don't know what is. And today, we're also discussing kicks, but not any kicks! Air Jordan is also going all out with a whole new silhouette. Are you ready to welcome the all-new Air Jordan 36? Let's check it out!
Air Jordan 36 – The Future of Performance?
So, let's talk looks and techs first. Now as we all previously noticed, AJXXXV was a more progressive take on the AJXXXIV. They looked pretty similar with some tweaks. So how is Jordan 36 any different? Well, first off, we're getting a lot more mesh on the upper, along with leather on the collar. The tongue gets its inspiration from the classic AJ6! We also got the eclipse plate we had in the previous 2 silhouettes' midsoles. However, the interesting thing is that there seems to be no Air cushioning in the 36s! We'll keep waiting for the official news though before we judge.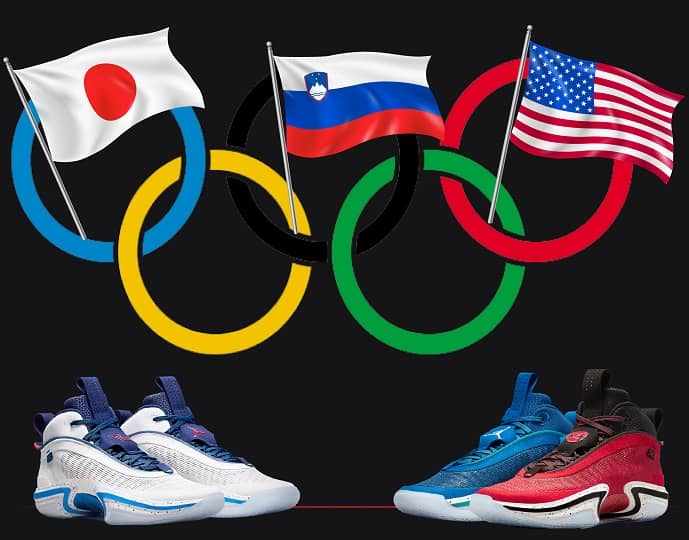 We already mentioned the mesh and the tongue, but we skipped the midsole! It actually comes split halfway through by the eclipse plate. The design is pretty eccentric with paint-like splatters all over and a stripe of color on there. The finishing touch is the ice outsole that pulls the whole look together.
When Did We First See The Silhouette?
So, before we discuss the Olympics PEs, we wanna discuss the first time we laid eyes on the silhouette. That was actually back in May 2021 thanks to the professional baller Isatou "Satou" Sabally! She unveiled a pretty striking purple and salmon-orange colorway which left sneakerheads with mixed feelings. But the design is pretty lit if you ask me! Oh and we saw none other than Jayson Tatum wearing the same kicks in a pre-game shootout. So they definitely were lowkey teasing us… and it worked!
What We Know About the New Olympics Jordan 36 Colorways
Olympics are always a good place to launch new products. I mean, that's like some easy marketing yo. And if athletes endorse your products, why not go big? So that's exactly what Jordan Brand is doing. First up, we got Jayson Tatum with his very own USA-themed Jordan 36. He's definitely packing that up to the Olympics. The kicks have the player's initials on the tongue, while the Jumpman sits on the other tongue.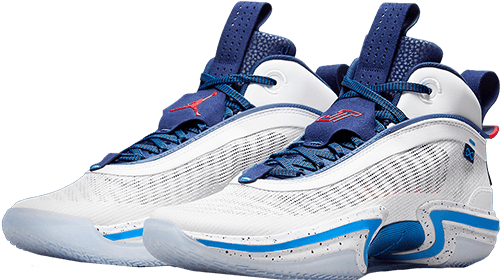 Next up, Luka Doncic's Jordan 36 rocks the Slovenian colors since he's playing for his motherland. Doncic signed a deal with Jordan Brand back in December 2020, and well, he got his own logo now! The logo is a pretty smart play on his LD initials and his jersey number '77'.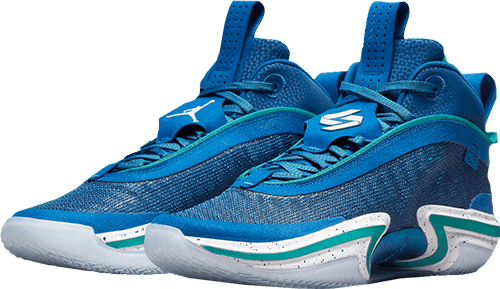 Last, but not least, we have Rui Hachimura representing Japan. He's also one of the JB ambassadors who received a PE Jordan 36! The Japan-inspired kicks feature a popping red colorway that we can't get enough of. It also has to do with the fact that it reminds us of the Bred colorway. And speaking of, will that be it or will we get an official Bred release?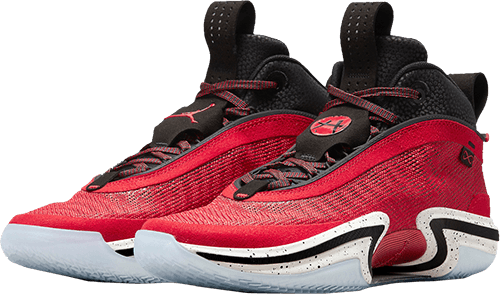 Will the Kicks Be Available for the Public?
So far, there is no news of a public release. However, since we're seeing the kicks around, that definitely means that a release date is pretty close. Since AJ35 debuted in September 2020, we can expect a Jordan 36 release around that time! So stay tuned to our blog for exact release info once we have them. In the meantime, Lebron's Space Jam collection is almost here! You can check out all the release deets right here. Good luck! 
Tags: Air Jordan 36, Air Jordans, Jordan
Posted in Jordans, Sneakers 0 comments