CLOT Jordan Celebrates Chinese New Year the Right Way!
2021 really said 2020 got nothing on me with all the sneaker releases we're getting. From the All-Star kicks to Chinese New Year, we're really getting it all. But when CLOT enters the game, we know it's gonna be real good. So what does the CLOT Jordan partnership have in store for us? Our expectations are definitely high because when the two brands collaborate, they do it with style. Hop on and check out the newest sneakers along with a trip down memory lane! But before getting into all the details, you better have NSB all geared-up and ready for the kill.
Huge Giveaway! RT & Follow🔥

Prizes:

1x Monthly @notify
1x Key @EveAIO
1x Key @NSB_Bot

Rules:
Follow all 3 accounts
RT 🔄 This Tweet! pic.twitter.com/MOP0rH1gnr

— NSB Bot (@NSB_Bot) January 29, 2021
Chinese New Year 2021 Hits Different
As you probably already know, CNY is on February 12, 2021. If you're wondering how that works, read on. So according to the Chinese traditional calendar, the Chinese new year begins on the new moon that appears between January 21 and February 20! This year happens to be the year of the ox. And naturally, just like every important holiday, Jordan Brand will honor it with a sneaker release!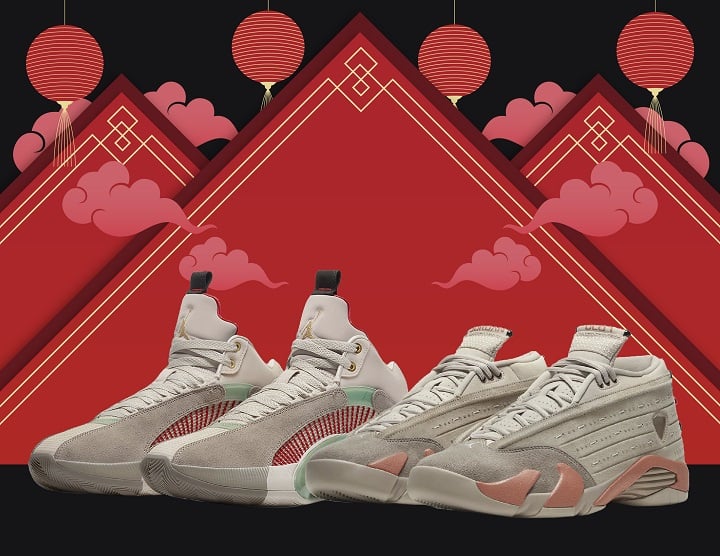 CLOT Jordan: Celebrating Eastern Culture Since Day 1!
What better representation could we ask for? CLOT has always paraded itself as a brand that connects eastern and western cultures. And CNY is the perfect occasion to do so. We'll be getting, not one, but two new sneakers that you don't wanna miss on!
"Terracotta" CLOT Jordan 14
Terracotta literally translates to "baked earth", and that's actually the name of the clay-based ceramic. Pottery also requires terracotta, hence the baking part. The new Jordan 14 rocks a pale earthy suede upper with dashes of terra blush to liven things up! The best part though is the red knot and coin that promise the wearer good luck and happiness. The Terracotta 14s will drop on February 11, 2021, for $200 just in time to kickstart the new year. And just in case you're wondering, the kicks are worth about $450 on the aftermarket! So the kicks are definitely an interesting catch for whoever manages to do it!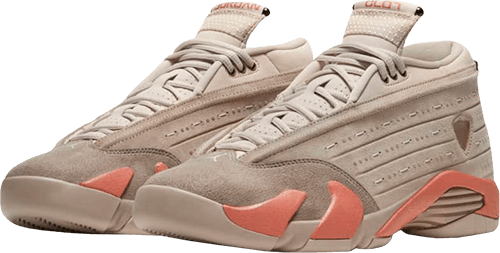 CLOT Jordan 35 
The new Jordan 35 throws on a different, but similar shade on its latest release! And really, we wouldn't expect anything less modern for the pretty futuristic pair. The kicks feature an earthy upper too, with dashes of red and marble green! This pretty pair is set to drop exclusively at JUICE online store and pop-up locations on Feb. 8. However, a wider launch will happen on February 11, 2021. We still don't know any of the money deets, but a pair like this should be a success!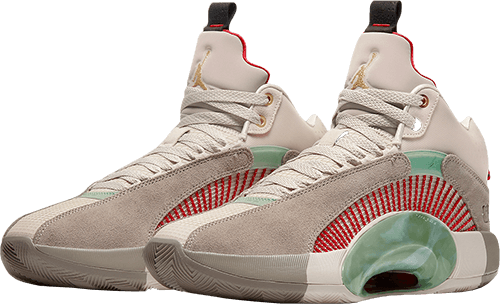 Previous Collaborations
CLOT and Nike made an awesome rep for themselves when they started their partnership. But when they took it a step further and included Jordan Brand, they raised the bar higher. So let's check out the previous CLOT Jordan releases!
CLOT Jordan 13 "Terracotta" & "Infra-Bred"
Although the 13th silhouette isn't as popular as earlier Jordans, some colorways are memorable, and these are some of them. The first collabs dropped in December 2018 for $200. The features a tan suede upper with terracotta overlays, and a golden Jumpman on the collar. This release, without a doubt, inspired the 2021 Jordan 14 colorway!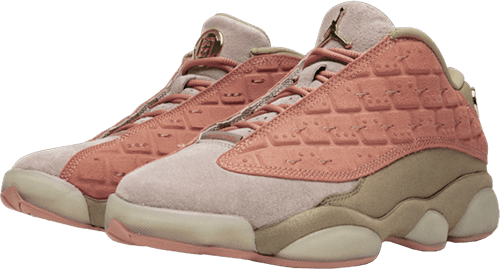 Today, this pair goes for $550 on average, but you might score much more if you've got the right size. The Infra-bred colorway features a black and infra-red suede base, thus the name. The overlays come in dotted black mesh. So all in all, it's a pretty flashy pair that you can get for around $430!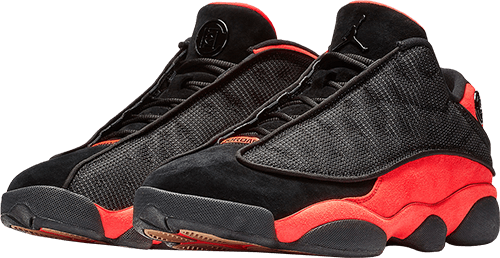 Edison Chen CLOT Jordan 1 "Fearless"
It's 2019, and Jordan Brand dropped the "Fearless Ones" collection. From Melody Ehsani empowering women to Edison Chen sharing Chinese heritage, we got it all! The Jordan 1 Mid featured white silk uppers with traditional Chinese iconography. Naturally, it came with a surprise! The upper is tearable and it reveals the "real" gold leather upper! That way, the sneakers give a feeling of customizability. The kicks dropped in December 2019, for $130. You can find them on the aftermarket for about $400, not bad for a pair of mids!
Tags: Air Jordan 1, Air Jordan 13, Air Jordans, AJ1, CLOT Jordan, Jordan
Posted in Jordans, Sneakers 0 comments