Bodega New Balance 574 Legacy – Internationally Known!
New Balance has been serving sneakerheads amazing collab after amazing collab for a couple of years now. In fact, it got so bad (in a good way) that we saw NBs on fashion runways in 2022! Anyway, one of the frequent collaborators with the brand is Bodega. And now, the Bodega New Balance partnership is giving us a pretty fly collab (pun intended!) The New Balance 574 Legacy pack is a vacation-worthy pair of kicks!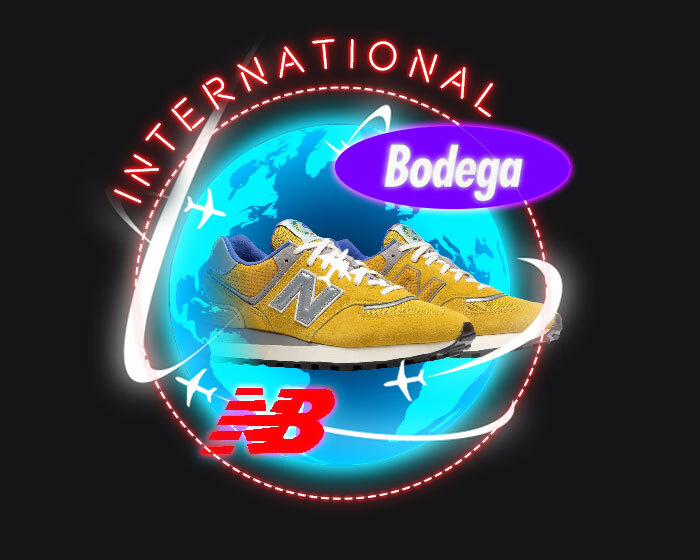 What's So Special About the Bodega New Balance Pack?
This new Bodega New Balance collab is pretty special. Why? Because it's like the perfect mix of vintage and modern designs. The collab will include two different colorways that complement each other perfectly. Naturally, the silhouette of choice is the classic New Balance 574 because of its vintage vibe.
The first pair is the "Departure" blue colorway with yellow sockliners and a silver N on the side. Meanwhile, the second "Arrival" pair is the exact opposite with a main yellow upper and blue sockliners. These kicks are definitely a tribute to the international fame of the silhouette. So if you're looking for a vacation set, I think you just found what you need!
Wanna Perfectly Style Your Airport Look?
If you're all about that comfortable airport/travel look, you're gonna love this. The Bodega New Balance pack is not only two pairs of kicks. It also has a pretty lit sweatsuit to match! You can buy yourself the cool grey sweatshirt and sweatpants that share the same logo as the kicks. That way, you'll be wearing NB x Bodega from head to toe!
Release Info
The Bodega New Balance pack will drop on July 15, 2022 in-store and online. These babies will retail for $130 each, while the sweatshirt will be $130 and the sweatpants $120. Now, if you're into it for the style, then you're probably already sold on this collab. But if you're a reseller, you're definitely interested in what's in it for you! Well, you're in luck, because the kicks are listed for a starting price of $680. If that doesn't scream profit, we don't know what does!
How to get the Bodega New Balance Pack
According to Bodega's website, this is a Quickstrike. In other words, this is a pretty exclusive capsule. This means it's gonna be in serious demand! That's why you're gonna want a good sneaker bot to ace that Shopify drop. And lucky for you, NSB is doing amazingly on Shopify! So for $349 per year, you can get all the kicks you want. After all, NSB also supports Footsites and Demandware, aka, you can get them Jordans and Yeezys too! So make sure you check this botting guide before you dive in. Godspeed 🔥
Posted in Sneakers 0 comments