Hot sneakers don't easily come by, and everyone knows that. Let alone when these sneakers are a Travis Scott collab! But you know, there's always a second chance in the sneaker industry. And in 2023, it seems like Nike is giving us one of the coolest second chances anyone could ask for… It's one of the most valuable too. So, here's everything we know so far about the Travis Scott Dunks comeback! And just in case you're looking for something a little less flashy, our blog has all the sneaker news you need.
Travis Scott Dunks – Still As Hot as It Was in 2020!
We all know that 2020 was not the best year for many with the whole pandemic and people staying indoors. However, the sneaker industry was booming, to say the least. Although retailers and production rates dropped a bit, people had money to invest in sneakers. Some invested for the long haul, and some made quick cash then noped out. Anyway, it was a good time because we got some pretty sick releases, and one of them was the Travis Scott Nike SB Dunk Low. 
If you're wondering what the hype was about, allow us to clarify. 2020 was the peak of the industry's interest in Dunks; the Dunks are dead statement did not even exist then! Add to that the Travis Scott hype, and you're golden. So, it totally made sense that the whole industry was losing it over these babies. In addition to that, the looks of it totally helped.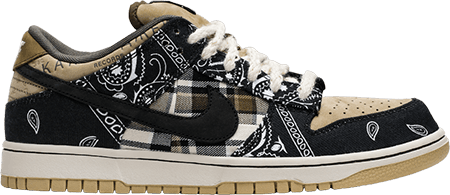 The Travis Scott Dunks featured a mix of patterns and materials. The base was beige khaki, with dark navy paisley overlays and a plaid middle area. However, the paisley canvas overlay was a tearaway that revealed the beige camo pattern. And finally, rope-style laces completed the edgy look of these babies.
The 2023 Comeback
When these kicks dropped in February 2020, everybody wanted to get their hands on them. In fact, 3 years later, the kicks are still worth $1,681 on average in resale. Although many took Ls on this release, others certainly hit the jackpot. However, 2023 is offering the mother of second chances with the return of the Travis Scott Dunks! Rumor has it that these babies are coming back in September 2023.
Wanna Cook Some Travis Scott Dunks?
Although these are still rumors, they're kinda believable. Why? Because Nike SNKRS is offering second chances through Exclusive Access for users. And just for that, you'll need to be ready. You can do that by getting yourself a good all-in-one sneaker bot like the upcoming NSB3! From the new Nike SNKRS module to AI Captcha solver, you'll be hopping on the future of botting. You can learn more about NSB3 here, and you can get your own copy of NSB today and be ahead of the curve! Godspeed.