Today, we're talking about one of the most popular retail bots out there. Stellar bot has made it clear that it's working its way towards dominating the retail scene. Although it's not the only one out there – you can check equally powerful retail bots here – it's worth a look! So we're gonna check out everything the bot has to offer along with other info you should know. But if you're looking for a sneaker bot specifically, we gotchu. Check out this list of the best sneaker bots that can help you kickstart your reselling journey in 2022.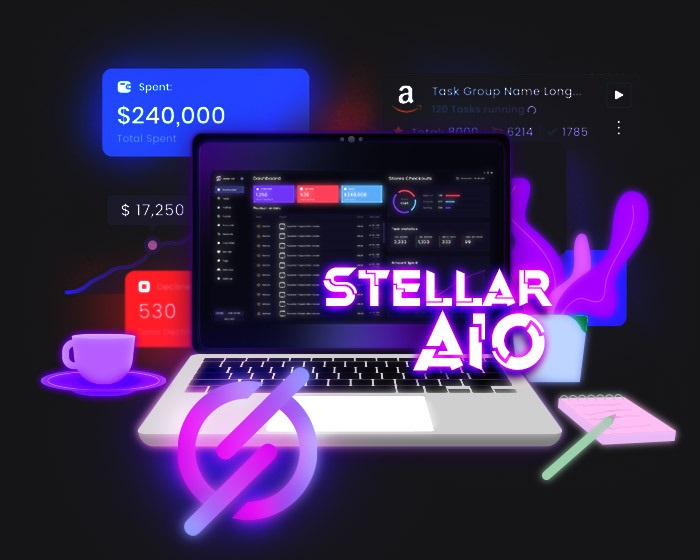 Stellar Bot – Made for Resellers By Resellers!
So as you can see, the bot's motto is that it specifically caters to resellers. However, you don't really have to be a reseller to run a bot. If you're fed up with everyone running a bot and beating you to that PS5, might as well get a bot yourself. Who knows? It might help you get much more than that console in the long run! Anyway, let's check out some of the bot's features and gizmos.
Bot Features
We're not really gonna get into the specifics, because if you're familiar with technology, you already know how bots work! However, each bot takes pride in the features they have to offer. And here are some of Stellar IO's coolest features:
A simple and sleek UI that even new users can find relatively easy to use

24/7 support

Different checkout modes

Task grouping for an easier botting experience

Supports a wide range of retail sites

Cool analytics to show you Ws and Ls alike

Compatible with Windows and Mac OS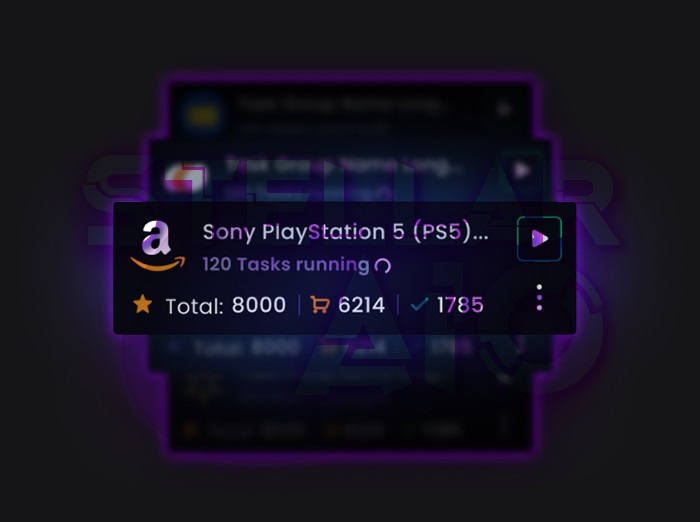 Anyway, listing the bot's features is cool and all, but let's get into some specifics! A simple UI will help even the newest users find their way around the bot. Moreover, the dashboard design allows you to see your wins, declines, and more. And of course, if you easily get overwhelmed by tasks, you can group them together and make the whole thing easier on the eyes. The bot's customer support is also pretty efficient, but it may take time because of the sheer number of requests! Finally, Stellar bot supports many big retail sites, let's find out what they are.
What Sites Does Stellar IO Support?
If you're wondering how to cop GPUs, PS5s, and more, you'll need a retail bot. And luckily for you, Stellar Bot supports lots of retail sites including:
Academy

BestBuy US & CA

Fanatics

Funko

GameStop US & CA

Newegg

Office Depot

Panini

PokemonCenter

Shop Disney

Target

Tesla

Topps

Walmart US & CA
How Much Does Stellar Bot Cost?
When you consider your options, Stellar turns out to be a pretty good option in terms of money and efficiency. At an initial $300 and a monthly $30 renewal fee, Stellar is pretty affordable… if it was in stock! Unfortunately, the bot is out of stock. However, you can keep an eye on their Twitter because they usually announce restocks there. You can also join their waitlist, and maybe you'll be one of the lucky ones! And of course, you have the classic bot resale or rental, but these will naturally cost more.
There's however an easier, more efficient, and more affordable option for you. A bot that supports retail sites and is in stock. A bot like NSB! NSB is one of the top sneaker bots in the industry and supports a wide range of sneaker sites. That way you can try your luck in both the sneaker and retail industries! Who knows? You might be able to score exclusive kicks, in addition to PS5s and GPUs! 
Moreover, NSB is one of the easiest bots to use with help readily available through discord and DMs to our social media accounts! If you're new to the whole botting game, make sure you check out this botting guide for pointers. But if you wanna know more about NSB, check this out. And if you're ready to jump into the industry, click the button below to make the best investment for only $349 per year! Godspeed 🔥