The year is not even halfway through, and so much already went down. But really, what's 2023, besides an extension of 2022? And well, the year wasn't very good for many in the industry on every scale. From a very fast and high peak in 2021, we are witnessing a sneaker sales decline in 2022 and 2023. But what happened in this couple of years? From Covid to market oversaturation, a lot is at play here! Let's check it all out together, shall we?
On Purchasing Power and Covid
The world went on hold in 2020 with Covid hitting hard. And countries like the US gave their citizens a stimulus check since many had to stay at home. Naturally, that meant a bit of extra income to some, and many decided to invest in sneakers and sneaker bots. And by default, with many people shifting their attention to the sneaker industry, it would witness impressive growth. Mind you, this growth was slowly but surely building for a couple of years prior to 2021. But you know, a 19.5% growth isn't a small number.
In 2022, Global Sneaker Sales Decline
Here's the thing, if you're remotely interested in the economy, then you already know that industries go through cycles. So whenever an industry experiences a high, there's bound to be a low at some point. And that's what many know as a market correction. In the case of the sneaker industry, the massive growth came to a halt. Why? For a couple of reasons.
What Happened?
First, sneaker production dropped considerably in 2022. The main reason behind that is that a new Covid outbreak happened in China. And since it's where many brands make their products, production dropped, along with a lot of delays in delivery. So when there are fewer sneakers to buy, sales will definitely decline.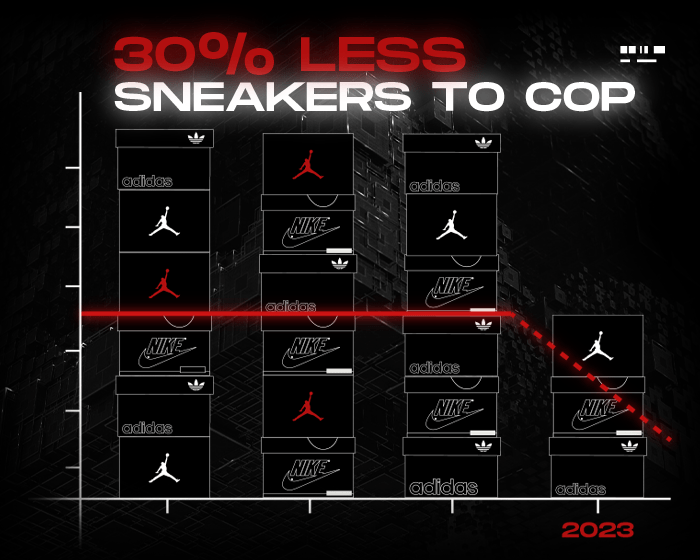 Second, inflation isn't a joke. With everything getting more expensive, not everyone can afford the luxury of constantly buying sneakers. You see, even Adidas, Nike, and Jordan prices are climbing up. And sometimes, a small amount can make all the difference. Obviously, with people losing their purchasing power, products are gonna sit. It also doesn't help that brands oversaturated the market with sneakers.
Finally, people's attention is moving toward smaller and more sustainable brands. In other words, Nike and Adidas aren't the only players on the field anymore. Although Nike is still on top, other brands like New Balance, Salomon, and more are proving to be impressive contenders.
So, What Happens After Sneaker Sales Decline?
A sneaker market correction was gonna happen either way. However, the question everyone's asking is: will it stay like that or will the market pick back up? Well, although the growth won't be as dramatic as 2021, the industry is surely not gonna die anytime soon. In fact, predictions and statistics show that the sneaker industry will grow 5.31% annually. So, are you still thinking about investing in sneakers?