What's worse than taking Ls? It's hitting the W on Nike SNKRS, only to turn into an L later. And in the case of the unlucky peeps who hit on the Nike SB Dunk Jaritos, this L hits harder. You see, awesome collabs like those don't come by as frequently as we'd like. So, when someone scores a pair like this, it's like a jackpot… until it isn't. Now, let's look at what went down with this drop, and why many people are mad at the cancellation! But if you're here looking for a fresh pair of kicks, then our blog has just the right news for you.
A Little Jarritos Dunks Recap
If you're not familiar with it, Jarritos is one of the most popular Mexican soda brands out there. From the colorful lineup to the candy-sweet flavor, it actually became a US bestseller! Now, when it comes to popular stuff, Nike knows what brands to collaborate with. But sometimes, even the best sneakerheads can't predict stuff like this. So, although the Jarritos SB Dunks collab came as a surprise, it definitely was a pleasant one! You can read all about the collaboration right here.
Anyway, fast forward to drop day (May 10, 2023), and everyone had their fingers crossed for this drop. You see, although resale isn't dramatically high, the kicks were still worth copping. In addition to the good resale, these babies gave you bragging rights. Especially if you manage to hit a pair on Nike SNKRS. And well, people flexed that sh*t like there was no tomorrow when they got 'em. But not everything has a happy ending apparently.
Where It All Went Wrong
Well, many braced themselves to take Ls and the SNKRS app didn't disappoint. However, lucky peeps managed to get to the Got 'Em page, and they didn't shy away from showing off that fact. Anyway, fast forward to May 15, aka 5 days after the drop, and people woke up to find their orders canceled. Not one or two, but many people as you can see in this Instagram post by Nice Kicks. Now, the question here is, why did Nike cancel all these Jarritos Dunks orders? Let's have a lil discussion, shall we?
Why Did Nike Cancel Jarritos Dunks Orders?
First things first, Nike is doing its best to control bots on the SNKRS app. And well, if you've been around for a while, then you already know that Nike upped its bot protection. However, what was supposedly good news, kinda backfired on some real users. Because some users got caught in the crossfire and Nike banned them. Similarly, Nike canceled some people's orders after giving them the W they so desperately wanted. But that's not the only reason, because there's a different kinda talk on the ground.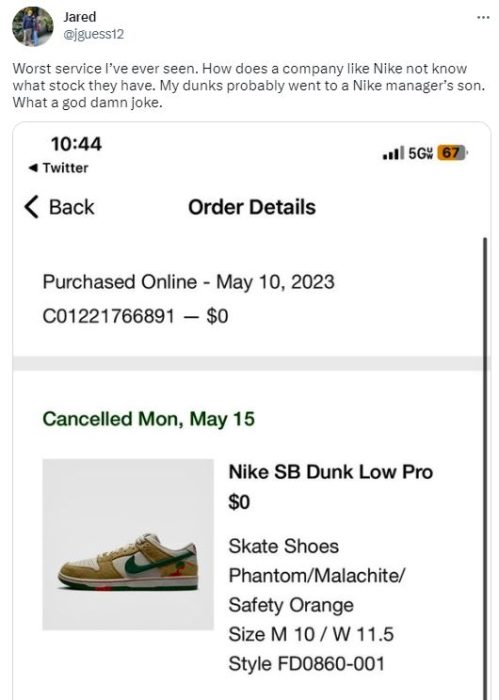 You see, Nike employees are notorious for backdooring kicks, especially the real hype drops. After all, the industry is still holding a grudge when it came to the Trophy Room Jordan 1s. If you don't know or remember the incident, check this out. And well, it seems like many cool drops get the backdoor treatment. So the public assumes that Nike is not aware of the remaining stock because of that. And when packaging time comes, people with legit Ws get their order cancellation news.
What's Gonna Happen Now?
Between blaming resellers, botters, and the actual company that backdoors its shoes, people are mad. And well, that's not a one-time incident, because this happened multiple times before. The most interesting thing about the Jarritos Dunks cancellation is that it was a wide wave of Ls. This kinda leaves you with the option of actually getting yourself a Nike bot and having multiple entries. Who knows? Maybe that will help you avoid hanging all your hopes on one entry, right?
But why limit yourself to Nike SNKRS only when you can have it all? You can get an all-in-one bot that will give you the best odds on all different types of sites. And don't worry, you don't have to look too far because the brand-new NSB3 is coming soon! From supporting Nike SNKRS and Shopify to an AI Captcha solver, the future of botting is here. Check this out if you wanna learn more about this upgrade. And make sure you keep an eye on our Twitter account for giveaways. You could always become one of our lucky Beta testers! Godspeed.