The Air Jordan 1 is one of the most popular silhouettes in the sneaker industry. And well, it deserves this popularity because it started a legacy after all. But even the best silhouettes can get boring if they don't innovate one way or another. That's why Jordan Brand started dropping the kicks in new colorways inspired by different stories. These stories are different milestones in Michael Jordan's career and life. However, sometimes kicks like the upcoming Jordan 1 Washed Heritage are just a new colorway. Although there isn't a cool backstory, these babies are still worth the cop, so let's check them out!
A Line with No Story and a Lot of Drip!
So, as we already mentioned, a lot of the colorways that JB chooses are a tribute to a certain event. However, the kicks we're talking about today are different. Their success is simply because of how cool they look. The Washed Jordan 1 line started in 2021 under a different name. It probably wasn't gonna be a line until Jordan Brand realized that the colorway was a success. The pair in question is the Jordan 1 Hyper Royal! These babies dropped in April 2021 and retailed for $170. However, they're worth $365 on average today, aka more than 2x the original retail price.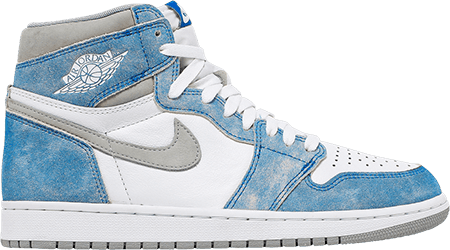 Now, fast forward to 2023, and Jordan Brand kicked off the spring season with some cool kicks. And one of these kicks is the Jordan 1 Washed Pink, a women's exclusive drop. The kicks came in almost the same color-blocking as the Hyper Royal 1s. In other words, a white leather base and distressed suede overlays are the blueprints here. Now, although the kicks are pretty popular among buyers on the aftermarket, they're not very valuable. But well, they're still selling for more than the original retail price of $180.
Jordan 1 Washed Heritage – Third Colorway's the Charm!
Just like the first two kicks, the upcoming Jordan 1 Washed Heritage features the leather/distressed suede combo. For this colorway, washed black suede upper sits on top of the white leather base. The only hit of color is the red Nike Air logo on the tongue! But let's be real here, you can never go wrong with a pair like this. Make sure you know how to style your Jordans if you wanna make a statement with simple kicks like these!
When & How to Get the Jordan 1 Washed Heritage?
Jordan 1 Washed Heritage will drop on June 10, 2023, and will retail for $180. And in addition to the awesome looks, you can flip these babies for $264 on average. That may not sound like much profit, but that's where copping in bulk comes in! But, how can you cop multiple kicks and bypass bot protection on different sites? Well, we have just the answer to that: a sneaker bot.
An all-in-one sneaker bot can give you more chances to cop the kicks you want. From exclusive kicks to copping in bulk, a sneaker bot like NSB has your back. And well, with the upcoming NSB3, new doors will be open to you! So make sure you get your copy today in order to elevate your botting game. And finally, keep an eye out for giveaways on our Twitter account! Who knows? You might become our next Beta tester of NSB3! Godspeed.