Here we are, with February already a step away! And that's okay because with it we're getting some really cool kicks, with a dash of nostalgia. You see, Michael Jordan told us about all his career stories and important milestones through sneakers. But today's pair is throwing it back a little bit further than usual. So what's the story behind Jordan 1 Laney? And why will you wanna cop these babies on drop day? If you're all about nostalgia and backstories, then this pair is right down your alley!
Even Michael Jordan Was a High Schooler!
So today, we really are throwing it way back, even before Jordan's time at UNC and with the Bulls. We're going all the way back to Laney High School, where Michael Jordan was a student! Interestingly enough, MJ didn't make the cut into the basketball team as a sophomore. However, he did make it as a junior! And well, his game was enough to catch the attention of UNC coach Dean Smith when he was scouting MJ. You can check out pictures of his days as a high schooler right here. The coolest bit is that even with the Laney Buccaneers, MJ's number was 23!
Jordan 1 Laney 2023 – 10 Years Anniversary
Before we get to the awesome release of this year, we have to go back to 2013! During that year, Jordan Brand dropped a really cool yellow and blue Jordan 1 high. For those who don't know it, the Laney Buccaneers' colors are yellow and blue! These kicks were one of the first modern-day AJ1s that featured the Nike Air branding on the tongue. Today, these babies are worth $594 on average. What's interesting about these kicks is that their value started going up in 2020. That coincides with the airing of The Last Dance documentary!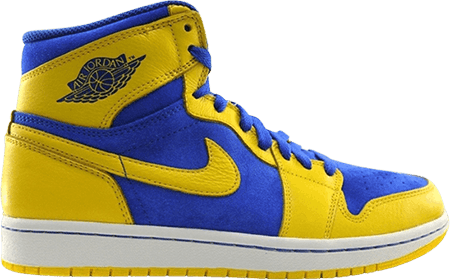 Now, fast forward to 2023, and the Jordan Spring lineup includes a women-exclusive Jordan 1 Laney! Looks-wise, the kicks are the exact opposite of 2013's iteration. The 2023 pair features a yellow leather base with blue overlays and outsole. Meanwhile, 2013's pair had a blue base with yellow overlays, but well, we're sold either way!
Release Info
Jordan 1 Laney will hit Nike SNKRS and select retailers on February 17, 2023, and will retail for $180. And in addition to women's sizes, the kicks will be available in PS and TD sizes. These will retail for $85 if you're thinking about copping a pair for the little ones in your family. Now, you're probably wondering whether the kicks will be worth the cop, and they are. If you wanna flex them, they will definitely make heads turn. And if you wanna flip them, they'll probably be as valuable as the 2013 kicks!
How to Get Jordan 1 Laney on Drop Day?
Let's be real, nobody likes paying resale (we sure do like selling though). So if you wanna cop the pair for retail, make sure you have a good Nike bot on hand. Don't go too far looking though, because we have a list of the best Nike bots here! Or, if you wanna play the long game, you can get an all-in-one bot that supports Nike and much more. And that's exactly what NSB3 is bringing to the table soon! So make sure you get your copy of NSB today to join the fam on the ride to the future of sneaker botting. Godspeed