Gaming Sneakers – Xbox and PlayStation Go Head to Head?
It always goes down like this: the sneaker industry comes out of nowhere and leaves its mark on another industry. It happened in movies, music, series, and more! But if you're invested in pop culture, then you know that gaming and the industry also go hand in hand. Who doesn't remember waiting to buy the newest PlayStation games the same way they waited for Js? And now, Adidas is taking gaming and kicks to a new level! Let's check it out and look at some of the coolest gaming sneakers ever!
Xbox Adidas Forum – A Cool Pair to Celebrate 20 Years
So this is a Forum, but not really a Forum… you feel us? Don't get us wrong, the pair looks fantastic. And, dare we say, it could be one of the best Adidas Forum collabs of the year. Despite not having the signature velcro strap, we're okay with it. The upper features the signature Xbox black and green colorway with the logo on the heel. Finally, the look wraps up with a chunky translucent midsole! So all in all, the pair is eye-catching but still wearable.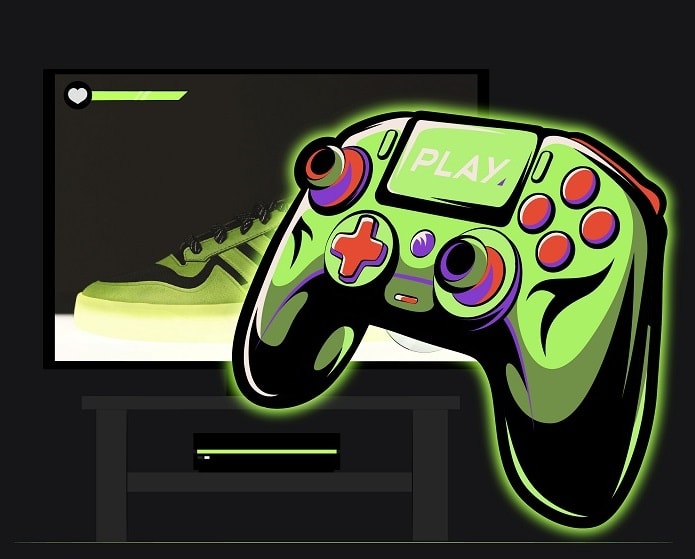 The new Xbox "20th" Forum will celebrate the console's 20th anniversary on November 19, 2021. It will retail for about $210, and will definitely be hard to get! There are also rumors about another lime green colorway, but this one's more on the hush-hush side so far.
A History of Gaming Sneakers!
If you thought this is a groundbreaking collab, then allow us to blow your mind a bit more! This isn't the first time Adidas taps into the world of gaming. They previously collaborated with Ninja, the famous Twitch streamer and pro-gamer, on a sneaker collection! That collection includes Nite Joggers, ZX Torsions, and a classic Superstar. You can find these in adult and GS sizes on the aftermarket today!
Whatever Adidas Does, Nike Can Do Too…
…And it does it with a little bit more flair sometimes! So we got many sneakers, but some stand out more than others. For example, the 2008 PlayStation Paul Rodriguez Nike SB put a certain standard to gaming sneakers! From there on, the only way was up. An Air Force 1 followed in 2009, and we got another one in 2018. And if you want a bit more affordable alternatives, the PG x PlayStation collabs are what you need.

Travis Scott Also Left a Mark on Gaming Sneakers!
Despite the Astroworld disaster and aftermath, we can't deny the effect Travis Scott has had on the sneaker industry. And in 2020, he dropped an F&F Nike SB PlayStation collab to celebrate the new PS5 launch. Today, if you look up the pair on the aftermarket, you'll find that it averages $7,000 in resale! It does come in handy when you have a plug, doesn't it?
These collabs are just the highlight of so many other gaming sneakers. You probably remember that sad excuse of the PlayStation Zara collab! (We'd rather forget about that too.) Anyway, who knows? Maybe future gaming kicks will bring some heat in the future. Just make sure you keep checking our blog for the latest news about that and much more! Godspeed 🔥