We love them hype sneakers, they make the sneaker game extra interesting! And this year has been on another level of excitement with all the amazing Dunk releases. But the hype isn't enough to end the year, we need something bigger and better. That's when Sean Cliver comes in. Yes, THE Sean Cliver. The guy behind the Strangelove Dunks and creepy art. So here's everything you need to know about the upcoming Sean Cliver Dunks!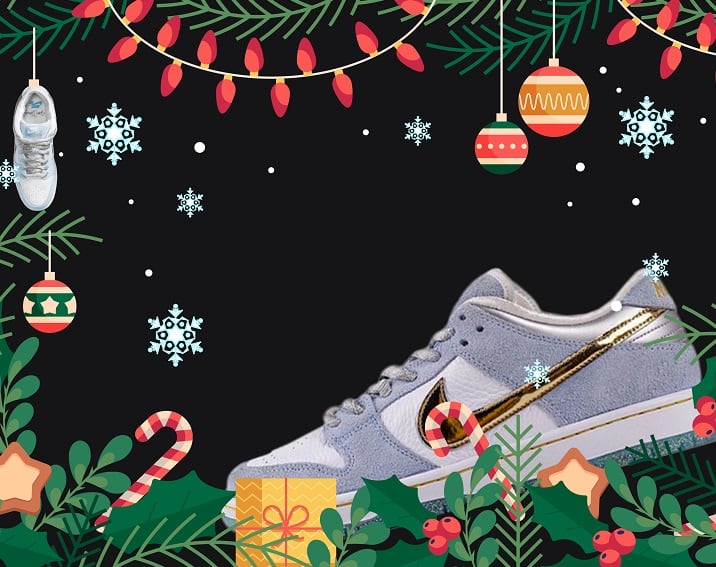 Sean Cliver x Nike Go Way Back!
Although the upcoming Sean Cliver Dunks are pretty sick, that's not the first time the artist and Nike collaborate. The first collab is the 2012 Nike SB Dunk High "Krampus". The Krampus, according to European folklore, is a goat-demon thing that punishes bad children during the Christmas season. Two years later, the "Disposable" Nike SB Dunk dropped in honor of Sean Cliver's new book. The last pair came in 2016, and it was a three-way collab between Nike, Skatepark of Tampa, and Sean Cliver. The SPoT Nike Dunk "Gasparilla" is a nod to José Gaspar, a pirate who pillaged Tampa a long time ago.

Sean Cliver Dunks "Holiday Special"
Today, we're going to go into all the details of the kicks, starting with the upper. At first glance, the kicks look like a simple leather and suede pair. However, the looks go beyond that. A golden swoosh highlights the frost blue and white upper. And a pretty cool bit is the snowflake-shaped perforations on the toebox! But that's not all, the kicks also feature silver laces and heels. To other pairs of laces will be available in  So to anyone thinking that silver and gold clash badly, show them the Sean Cliver Dunks!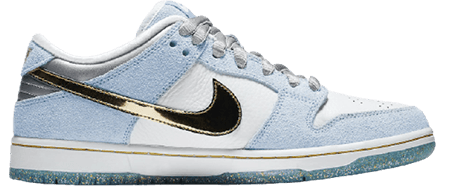 Now, after the upper, we've got a pretty awesome frost blue midsole with feisty golden glitter! Moving on, we reach the best part of the kicks: the insole. The first insole features co-branding by Nike and Sean Cliver. The second side rocks a holiday artwork by the illustrator himself!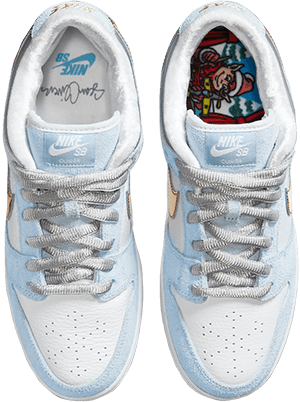 Release Info
The upcoming Sean Cliver Dunks are set to drop on December 18, 2020, at select skate shops. And they will drop on December 19th on Nike SNKRS. They'll retail for $110, and they currently resell for 10 times more on average! Moreover, the collaboration will be available in kids' ($90) and toddler's ($75) sizes. So if you're feeling like some matchy-matchy with the kids, keep an eye out for the Sean Cliver Dunks.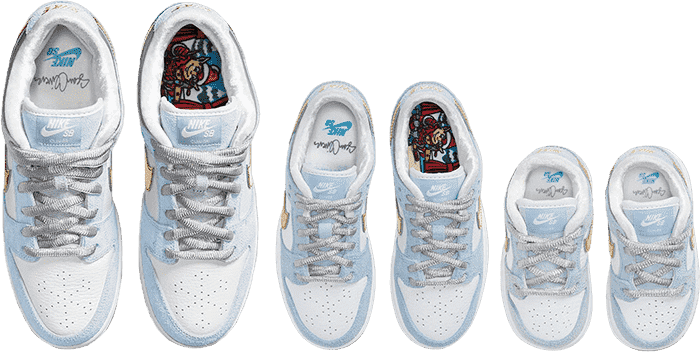 Make sure the 2020 holiday season passes with you on your best appearance! And speaking of appearances, make sure you know the difference between fake and authentic Supreme apparel. After all, you don't wanna pay and then get caught up in a lie! And why buy off the resale market when you can cook and buy for retail with NSB? We even have an easy "cookbook" ready for that!
Tags: Nike, nike sb, Nike SB Dunk, nike sb dunks
Posted in Nike 0 comments