Everyone knows about the influence of sports on the sneaker industry throughout the years. The industry started there obviously, and it'll always be a crucial part of it. After all, sneaker tech advancements always have athletes in mind. But when music and sneakers come together, you know it's gonna be good. So naturally, when we heard that Run The Jewels SB Dunk is a thing, we couldn't help the excitement! And if you're new to all this, allow us to explain. And if the music/sneaker mashup appeals to you, Action Bronson and NB are here!
What's Run The Jewels?
First things first, Run The Jewels (or RTJ for short) is a hip-hop super-duo that started in 2013. The name's inspiration is a lyric in LL Cool J's Cheesy Rat Blues. Meanwhile, RTJ consists of El-P and Killer Mike, both active in the industry since the 90s to this day! The duo also won multiple awards for their work. Fun fact: RTJ dropped a remix of their second album called Meow The Jewels. This album actually won the award of Marketing Genius by A2IM.
Run The Jewels SB Dunk – Legend Has It They're Cool
So, we're not getting one, but two Nike SB Dunk collabs! The first pair is a low-top Run The Jewels SB Dunk with a suede upper in different shades of blue. However, the swoosh will be in a cool shade of hot pink! Meanwhile, the translucent blue soles reveal the Run The Jewels branding on the outsole. And finally, the iconic pistol and fist logo is on the insoles. So all in all, the pair perfectly represents RTJ!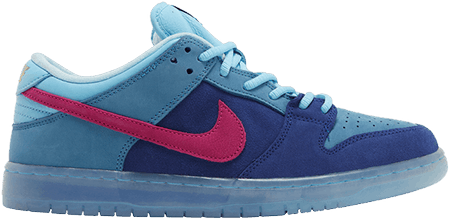 The second pair is a wild high-top RTJ Nike SB Dunk; and when we say wild, we're not kidding. Hot pink pony hair overlays cover the black leather base, and a 3D geometric black Swoosh completes the look. The midsole will be black, and the same shade of pink wraps up the look of the outsole. So, if you're feeling edgy, or just wanna add a cool pair of kicks to your sneaker collection, this is it!
Release Info
Nike is still a bit shady about this collab so far. However, rumor has it that both Run The Jewel SB Dunk collabs will drop on April 20, 2023. If you're not familiar with 4/20, here's the backstory, and if you wanna know how Nike made it a tradition, check this out. So, it kinda makes sense for the kicks to drop on that day. The low-top SB Dunk will most likely retail for $130, while the high-top for $140. And just like the previous 4/20 Dunks, these babies are totally worth your time and effort! The low tops are currently worth $290 on average, and the high top goes for about $265.
Ooh La La, How to Get the Run The Jewels SB Dunk?
The upcoming Run The Jewels SB Dunk will drop on Nike SNKRS and at select skateshops. So, if you wanna sleep easy at night knowing that you did your best to cop these babies, you'll need a sneaker bot. And well, NSB3 will definitely have your back when it comes to Nike SNKRS with the brand-new module! Wanna know all the awesome new features coming soon, check this out. And if you're ready to take your sneaker copping experience to the next level, get your copy today here! Godspeed