Some collaborations happen and the industry soon forgets about them. But some other collabs keep the industry talking about them before and after the drop. And the latter is the case when it comes to the Jordan x A Ma Maniere partnership. Naturally, when people heard that a new A Ma Maniere Jordan 5 is coming in 2023, their excitement hit new levels! So, what's up with this collab? And what do we know about it so far? Let's find out together!
A Ma Maniere – A Brand from the Culture!
A Ma Maniere took inspiration from Parisian culture and fashion. The boutique's goal is to embody the fact that everyone is influenced by their culture. At the same time, it's there to give customers the feeling of exclusivity, style, and more. Naturally, this all lines up with Nike's goals, which led to the start of a partnership in 2019! Now, this partnership evolved fast and eventually included Jordan Brand. And honestly, there was no turning back from there!
A Ma Maniere Jordan 5 – Pairs Make Everything Better
So, we're already familiar with the work of James Whitner with Jordan Brand. Obviously, he wants his work to support people and make them seen. And Jordan Brand certainly loves storytelling. Heck, the whole brand is built around storytelling, so there's that. Now, this year, the sneaker industry is gonna go on a date with not one, but two Jordan 5 colorways!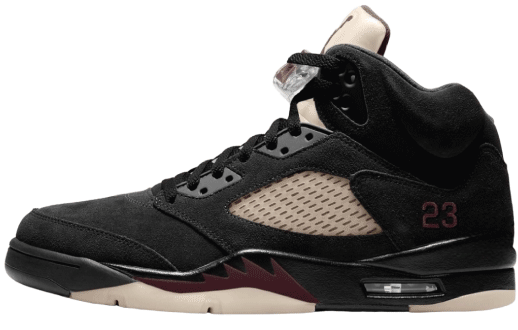 Although there are no exact details, we know quite a bit. For example, and most importantly, we know what the kicks look like! The first pair will feature a black upper with maroon details and co-branding. So far we have multiple leaked images and celebrities even wore them. However, the second colorway, which is gonna allegedly rock a bone upper, only has mockups so far. We hope these kicks actually look like this because they're dope! Especially if you know how to style Jordans like these.
Release Info – A Ma Maniere Jordan 5
We don't have a release date, but the A Ma Maniere Jordan 5 will allegedly be released on Holiday 2023. And while this sounds like a long time from now, it's really not in the sneaker industry! Why? Because you're gonna need help when it comes to a hot drop like this. And that happens if you get a sneaker bot like NSB!
NSB is one of the oldest and most consistent all-in-one bots out there. And because our users should always be on top of their game, NSB3 is coming soon! With that upgrade you'll enjoy the new Shopify and Nike SNKRS modules, along with an AI Captcha solver. So make sure you get your copy now and get some practice in. Who knows? A hot drop might happen while you wait for the A Ma Maniere Jordan 5. Godspeed!