Every once in a while, sneaker news blogs feature a bit about a Nike lawsuit against one designer or another. And today is no different because Nike is dropping the hammer of justice on the heads of designers Kool Kiy and Omi. So today, we're gonna take a look at this lawsuit, in addition to a brief history of previous Nike Lawsuits! If you're looking for a new legal drama, then you're at the right place!
You Get a Nike Lawsuit! You Get a Nike Lawsuit!
Everybody gets a Nike lawsuit! We wish we were kidding, but well, this is not a surprising thing. They say that imitation is a form of flattery, and we get it. However, sometimes designers get a bit overboard and their imitations look like plain copies. So let's check out who made the mistake of crossing the Swoosh!
Kool Kiy & Omi – The Latest Nike Lawsuit
In addition to the two sneaker designers, a sneaker manufacturer is also included in the lawsuit. According to Nike, they're suing them for "promoting, copying, and selling" Nike's designs as if they were their own. And let's be real here, the kicks look an awful lot like Nike's Dunks and Air Jordan 1s. Even people on the internet noticed that these look like an obvious rip-off.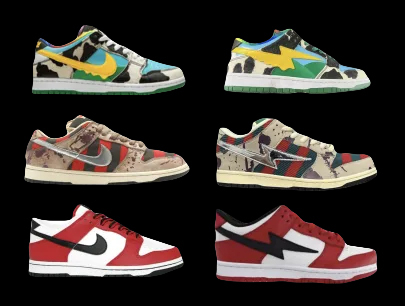 According to Nike, their lawyers contacted Kiy & Omi in 2021 to reach a resolution between them. That didn't work out though, and the designers kept profiting off the kicks. So 2022 rolled around with Nike issuing another warning that once again went nowhere. Naturally, the Swoosh took their warning seriously and went to court. The third party involved is the Chinese manufacturer Wandering Planet. According to Nike, the manufacturer gave Kiy & Omi the trade dress of the silhouettes. Thus, it helped with the production of Nike sneaker copies.
Lawsuits That Nike Previously Filed
Nike vs Warren Lotas
Let's be real here for a sec. When you copy the details of a silhouette down to the colorway, a lawsuit is an obvious outcome. And what's more famous than the Nike Dunk and its most famous colorways? Exactly. But that's not gonna sit well with Nike, and the brand jumped on Warren Lotas' throat with a trademark infringement lawsuit. This sparked a huge discussion about how some rip-offs, like Bape Bapestas, are ok while these are not. You can read all about the 2020 controversy here.
Nike vs MSCHF
This one totally blew up, and it was one of 2021's biggest sneaker controversies. So the notorious MSCHF decided to collaborate with Lil Nas X on Satan shoes. However, these were no new kicks, they were a custom take on the Nike Air Max 97. Only 666 pairs were made, and apparently, human blood was involved. Not the point though, because Nike sued MSCHF, and then reached an agreement with them.
People got refunds, Lil Nas X took down his pair #666 giveaway, and so on. But of course, MSCHF has something to say about all that. And you can check out their fiery retort right here! Side note: MSCHF is still as mischievous as ever, and 2022's Wavy Baby didn't impress Vans.
Nike vs John Geiger
A Nike lawsuit became like a yearly tradition at this point, and we're not even cracking a joke here. Do you know why? Because in 2022, Nike resolved the lawsuit they filed against John Geiger in 2021. The sneakers in question were the GF-01, which looked an awful lot like the Air Force 1 low. Luckily though, the end result wasn't dramatic.
In fact, the designer and Nike issued a statement about the agreement. John Geiger agreed to modify the design of the GF-01. That way, the design will respect the trade dress of the Nike Air Force 1 while not standing in the designer's way. And Nike mentioned that they respect John Geiger as a designer. So, no harm done, right?