#SNS: Kim Kardashian West is a Fake Sneakerhead
First of all, we just want to say that we got love. We got love for Kanye, Kim, Yeezys, and all the fam. But enough is enough y'know. No matter how many sneakers she wears, Kim Kardashian is not a sneakerhead. Heck, the Kardashians are not sneakerheads- period. In no way do they represent our community. However, it's not shocking that Kanye West would use his wifey and her family's fame to do the marketing for him. But before we get into Yeezys, there's a cringy Kim in Skechers we need to discuss.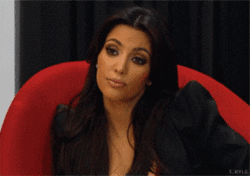 First, KimxSkechers
Let's face it, not everyone can pull off a pair of Jordans. In fact, most of the people who wear Jordans probably have multiple pairs in their collection at home- not collecting dust of course because they're meticulously cleaned and taken care of almost to the point of worship.  
No one on earth feels that way about Skechers. If you buy Skechers, you will wear them down to the ground until you're ready to get another pair. You will literally wait until there are holes in that thing or until it starts falling apart! And don't get all defensive and tell us you've never worn a pair of Skechers because chances are, that's what your mother sent you to school wearing. But to be nice we'll assume that you may or may not have owned a pair of Skechers in your life, however, you definitely know someone who has!
That's why adding the Kim Kardashian effect on the sneaker brand wasn't a completely awful move- despite how cringy it looks in retrospect! Kim has millions of fans, primarily women, who will buy anything she markets- or at least consider the product. So if Skechers could widen its reach by using Kimmy's fame to tap into her fanbase, that's exactly what it'll do! Of course, it would have helped a lot if Skechers didn't get a lawsuit filed against them for making false claims…
Not that you'd consider anyone wearing Skechers a sneakerhead, but the fact that Kim marketed Skechers means nothing. The endorsement is only effective if you truly believe it, and that's why we'd say Kim is a fake sneakerhead. Consequently, the same applies when she's marketing for her husbands Yeezys.
Power of Influence
Similar to how everything Virgil Abloh touches turns to gold, anything Kim wears becomes trendy. And due to the fast fashion industry, people can actually buy items that look exactly like hers. Recently, Kim slammed fast fashion after a company hastily released a spot-on replica of the much-too-revealing-to-share-here vintage Thierry Mugler dress she wore to the Hollywood Beauty Awards.
And that isn't the first time. On a different occasion, Kim explicitly says, "P.S. fast fashion brands, can you please wait until I wear this in real life before you knock it off?" See below just how low these fast fashion copycats are!
KimxYeezy
Knowing how powerful her influence is, Kanye easily markets his products by giving Yeezys to Kim (and her family) to wear. It's that simple. By doing this, Ye taps into a new world of innocent, unsuspecting potential customers who will do anything to buy the items they see on the Kardashians. It makes so much sense, especially when production numbers on the Yeezys are increasing, that this is the way Yeezy wants to gain a larger market share.
Often in her IG story, Kim Kardashian wears Yeezys while training, and she's also worn Yeezys with dresses. It goes to show her fans how to dress the sneakers both up and down. She was even the center of the ingenious Yeezy Season 6 campaign, where "Kim Clones" replicated her look and took snapshots mimicking hers.
So whether or not the Kardashian fans are into sneakers, they'll start to eventually want Yeezys. Especially since they are now easier to buy. I wouldn't be surprised if these fans closets are full of the kinds of shoes Kim wears like strappy high heels, Yeezys, a couple of Old Skool or slip-on Vans, and probably one Nike running shoe, or better yet, Skechers.
Posted in Yeezy 0 comments