A Pharaoh Would Approve of Concepts Nike Kyrie 5 "Ikhet"
Right after releasing the Green Lobster Kyrie 4 and the Purple Lobster SB Dunks, the Boston-based retailer, Concepts, is at it again with more collaborations with Nike and Boston Celtics player, Kyrie Irving. This time, Nike and Concepts join forces to illuminate Kyrie's spiritual side with the unique and inspired Concepts Nike Kyrie 5 Ikhet.
In today's sneaker game, Kyrie collabs are something not to miss. Remember the Lucky Charms Kyrie 4s? Selling for an average of $684 USD including premium packaging. This time around, the collab is with a third party: Concepts International.
The folks over at CNCPTS are not taking a break this Christmas! After just dropping the now sold out Purple Lobster Dunks, which have sold for a high of $1,250 USD on StockX, they're doing another collaboration with Kyrie Irving. Their previous Kyrie collab involved a similar member of the Nephropidae family, the Green Lobster Kyrie 4, with its lowest asking being $1,100 USD, while it only retailed for $150.
Concepts Nike Kyrie 5 "Ikhet"
Lover of details, Concepts took this next drop to a whole new level. Tributing Kyrie's Hamsa tattoo which represents the All-Seeing Eye, Concepts took the collab all the way back to ancient Egypt.
It features a tan and almost sand-colored upper with gold accents and a red tongue. Its midsole is purple and it has Egyptian hieroglyphs on the heels. On one side is as Aries symbol, since that's Irving's star sign, and on the other is the Eye of Ra.
The co-branding includes CNCPTS on the left tongue and insole as well as Kyrie's signature on the upper. On the right side is Kyrie Irving's logo on the tongue and insole and the Concept logo on the upper.
Of course, it's the details that make the shoe. But one detail that could easily get overlooked is the name of Irving's daughter and her birthday "Azurie 11.23.15" engraved on the midsole as has been done on many Kyrie 5s before. 
A typical detail of the Kyrie 5 is the Kyrie emblem inside of a pyramid inside of an eye shape on the outsole, with the "Established 1992" referring to his birth year. It's nice to point out how well it fits on this collab, perhaps symbolizing that the all-seeing eye is watching over Kyrie Irving.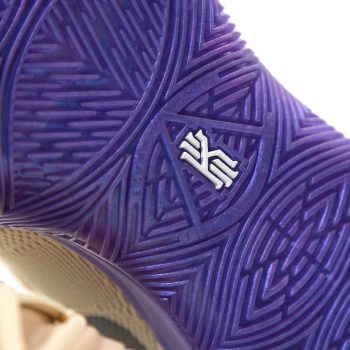 The Concepts Nike Kyrie 5 Ikhet will release on Wednesday, December 26, 2018, for $130 USD. You can expect it to drop at CNCPTS, Nike, and select Nike retailers. Make sure to run your NikeShoeBot if you want to cop this one as we support CNCPTS drops.
Posted in Nike 0 comments