If you thought that CLOT is done with Nike Cortez, you're very wrong. You see, there seems to be a third upcoming pair, one that goes back to the roots! And if you liked the first two installations of the Nike CLOTEZ, odds are you'll love the third. Moreover, we know for a fact that Forrest Gump would love these. If you don't know why, let us walk you through a bit of pop and sneaker culture, shall we? Let's take a look at this new teaser and what we know about the kicks so far!
The Nike CLOT Bond Is Just Different
Before we get to the new Nike CLOTEZ, we'd like to take a look at the two previous releases! If you followed the news, then you already know that the teasers we going on for a while now. But if you haven't seen those before, read on to catch up on what you missed. The Nike CLOT Cortez, or just Nike CLOTEZ, is a very creative take on a classic silhouette. CLOT stayed true to its heritage with a Kung Fu-inspired design! It's very functional because, in addition to being a sneaker, you can split it and it'll become similar to traditional Kung Fu shoes.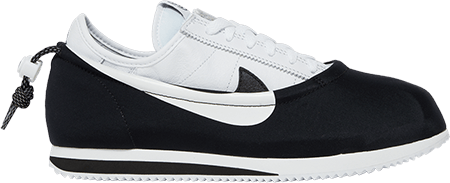 Release Date: February 10, 2023
Avg. Resale: $230
The first silhouette came in a black and wide colorway that gives off Yin Yang energy. However, the second pair was a huge tribute to one of the best martial artists: Bruce Lee. The yellow and black colorway is a direct nod to his iconic yellow suit in Game of Death. In fact, this suit inspired many after him, including Uma Thurman's suit in Kill Bill! Thurman's suit and kicks ended up becoming a pop culture moment. You can read more about those right here!
Release Date: March 10, 2023
Avg. Resale: $278
Nike CLOTEZ Vol. 3 – Run Forrest, Run!
The man himself, Edison Chen, took to Instagram on March 16, 2023, to tease another Nike CLOTEZ! And well, you guessed it, the colorway is the signature white, red, and blue, aka Forrest Gump's favorite. If Kill Bill influenced the fighter in us, then Forrest Gump definitely influenced the runner inside all of us. And since the sneaker of choice in the movie was the Cortez, it only makes sense to drop them!
The new Clotez will drop on April 14, 2023, but it would've been very poetic if they dropped on April 10, don't you think? Either way, retailing for $140, the kicks are definitely worth adding to your roster of classics. But if you wanna do that, you'll need a bot that supports both Shopify and Nike SNKRS, just in case. Luckily for you, NSB3 is dropping soon, and it does just that! It also does a lot more, but you'll wanna get your copy and check for yourself! Godspeed