If Nike's good at anything, it's how to weave a story that we'll remember. Now, we all know for a fact that the sneaker industry loves its yearly celebrations. And with Nike Air Max Day 2023 right around the corner, we can't help the excitement! From old-school retros to a brand-new silhouette, the Swoosh is treating us to come awesome celebratory drops. But before you dive into that, you gotta know your Nike Air Max history to fully appreciate the upcoming releases!
What's Nike Air Max Day?
How about a little context for the newcomers? Nike Air Max 1, which was the first Nike with a visible Air bubble, came out on March 26, 1987. Little did we know that this line would end up becoming a staple in every sneakerhead's sneaker rotation! Whether you're into the classics or the newer technologies, there's an Air Max for you!
What Nike did here was a strike of genius. The Swoosh leveraged that popularity and launched what became the official Air Max holiday: Nike Air Max Day! And in 2014, Nike celebrated its first official holiday with an edgy retro of the OG Air Max 1. Other Air Max Days gave us amazing gems like Sean Wotherspoon's AM1/97, AM2090, and more. You can read more about previous releases here!
Air Max Day 2023 – Comfort is King This Year
You know how the industry became understandably big on comfort in the last few years! And well, if the Air Max line offers anything, it's a lot of comfort. So what will this year's releases bring to the table? Let's check them out now! PS: there probably will be more than what we currently know, so we'll keep you up-to-date on the go!
Nike Air Max Pulse
We love it when the past and future meet. And for Air Max Day 2023, Nike is doing exactly that! The new Air Max Pulse is both familiar and unfamiliar. Why? Because the individual parts of the kicks are familiar to us, but the final result is brand new! For example, the sole Air unit is very similar to AM270's soles. Meanwhile, the upper is split between mesh and perforated leather for breathability.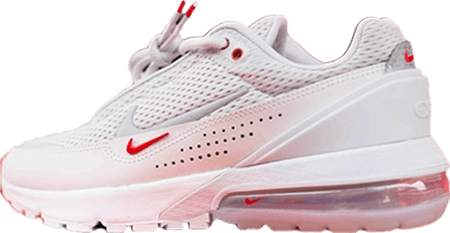 This sole will feature a point-load system that will make weight distribution better. And while we're at it, it seems like Nike will revamp the Air logo on the heels! Finally, we have two potential colorways: white/red and grey/black/white. Don't worry though, we're sure that plenty more colorways will follow after the initial launch!
Nike Air Max 1 "Big Bubble"
Think about your favorite classic pair of Air Max 1, but make it better. That's exactly what the upcoming Air Max 1 Big Bubble is! We're gonna get the classic Air Max 1 white/red with a bigger visible air bubble because why not? And if you're a sucker for classics like us, you shouldn't miss out on this pair!
Nike Air Max 1 Slide
You can never go wrong with a pair of slides. After all, they've been wardrobe staples ever since they went back into fashion. So if you're considering the Big Bubble AM1, you'll definitely wanna invest in the Air Max 1 Slide.
Wanna Try Your Luck on Air Max Day 2023?
So is everyone else. But why not give your luck a lil push? Nike SNKRS is the subject of memes when it comes to all the Ls it hands the users. So, you'll wanna bot your way through it all for better odds. Luckily, NSB3 is coming soon, and with it the new Nike SNKRS module! But that's not the end of it, because many more upgrades will be coming your way. You can read more about that right here. In the meantime, make sure you get your NSB copy today and enjoy the future of sneaker botting! Godspeed