After being under the spotlight for a long time, Kanye going MIA is pretty out-of-character! And at some point, we were all wondering: Where is Kanye West? Well, he certainly didn't leave us wondering for too long because we got lots of news! So, let's kick off a new chapter of the Kanye saga and check out what he's been up to lately. Hint: It includes a wedding, lawyers, and new possibilities. How exciting!
Where Is Kanye West? Off Getting Hitched!
The end of 2022 wasn't very nice for Kanye, because let's be real, he sure didn't leave the best of marks. But we kinda got used to him pulling stunts in our subconscious. So hearing that he's gone MIA was pretty interesting. And now that 2 months passed since Ye and Kim finalized their divorce, Kanye already tied the knot again! The mysterious bride is none other than Bianca Censori, the architectural designer at Yeezy.
Censori joined the Yeezy family in November 2020 when Ye personally recruited her. And now, sources have it that the couple tied the knot in January 2023 in a little ceremony. However, the marriage isn't legal yet because they didn't file for a marriage certificate. So here's your answer to "Where is Kanye?"
Everyone's Dropping Ye!
After Adidas terminated Ye's deal, events started snowballing and everyone in turn dropped him. And now, even his lawyers are dropping him in a very peculiar way! First, let's start from the beginning, the time in which Ye's lawyers couldn't reach him in person or by phone. You know, since he's being sued by his ex-manager (among many other lawsuits if we're honest).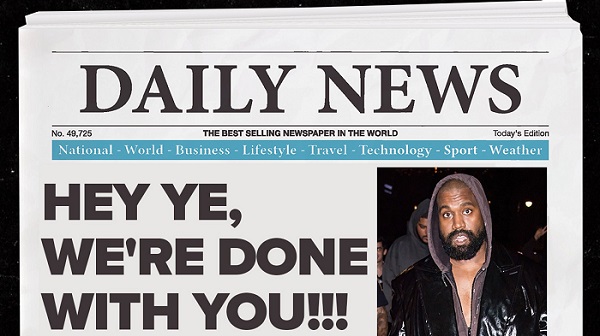 But it seems like his lawyers grew weary of Ye because they announced that they're dropping him in the most unorthodox way! What way, you ask? Well, they're announcing it in two big Los Angeles newspapers in hopes the news will reach him. Talk about a public dump, sheesh.
Former Head of Yeezy Innovation Lab Moved on…
You can't be stuck in the past, and that's why Omar Baley and Abhishek Som are moving on! Their way to do that is by launching their own sneaker production company: FCTRY Lab. Yes, yes, we see the name and what it resembles. This kinda leaves us with a question: where is Kanye among all these new steps?
The company will be USA-based, which will cut back on production time! It will also include 3D printing, pattern making, and injection molding. All this work helped the company secure $6 million dollar in funding. So obviously, FCTRY Lab seems to be going in the right direction! Whether they'll link up with Ye in the future remains to be seen.
Now That We Know Where Is Kanye
It doesn't seem like he's gonna slow down any time soon because we always have questions. Will this marriage work? And will Ye be back with new kicks and music? Or will he take time for himself and reflect on everything that went down and settle all his legal drama? We just have to wait and see where Yeezus is going! In the meantime, make sure you check our blog for the hottest sneaker and botting news! Godspeed