The Season's Best: Supreme Arcade Machine Drops in 2 Days
It's 2020, and Supreme is on its 26 years old roll. Being a simple skateshop didn't sit well with the brand, and so it extended its reach. Whether you're into outdoor activities or good ol' ball sports, there's something for you. However, there's another type of hobbies: Arcade games. And because the brand doesn't miss a beat, it's bringing a Supreme arcade machine for us this week! So let's check out this week's release and Supreme's history with board games and arcade.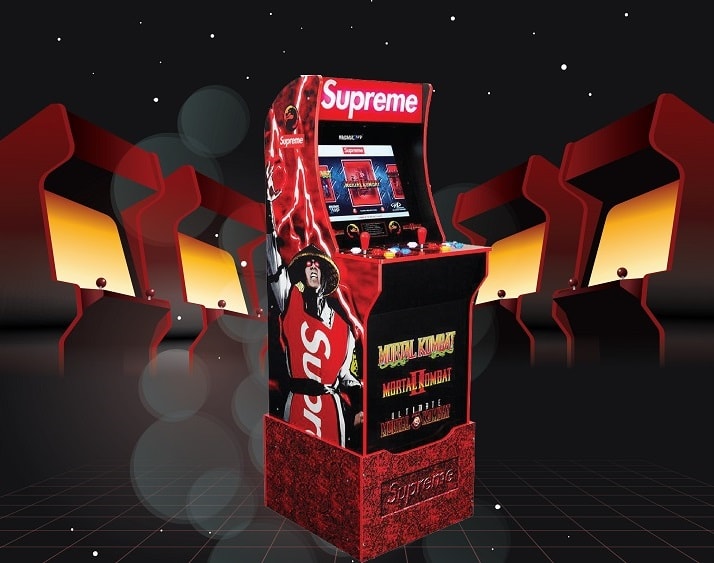 Supreme Arcade Machine: Mortal Kombat Reimagined
It's the 90s, and we're well beyond the golden age of arcade games. However, one game took the spotlight and brought some of the arcade glory back. It was the Mortal Kombat arcade game. And because supreme is known for bringing some items from the dead, they're bringing it back! The new Supreme arcade machine features Mortal Kombat 1, 2, and 3. It also has the old school joystick and buttons along with the Supreme logo all over the machine. So if you're an arcade collector, this is just your alley! Unlike the bike release, this drop will be available online, so let's hope you get free shipping with it.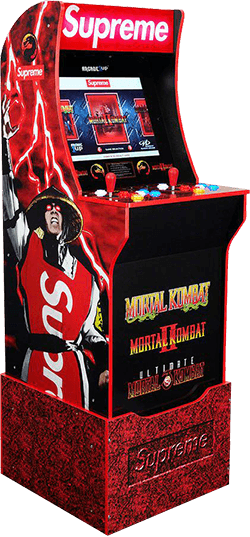 Previous Supreme Arcade Machine Drops!
Guess what. Although the Mortal Kombat arcade is taking this season by storm, that wasn't the first release. Back in the SS18 season, Supreme dropped a Pinball machine that brought back all of our windows 95 and XP! This time though, it was the physical game for the arcade fans. Finally, the Supreme arcade machine came in a white outside and red playground with the Supreme logo everywhere! The machine retailed for $10,998, and it currently resells for several times the original retail.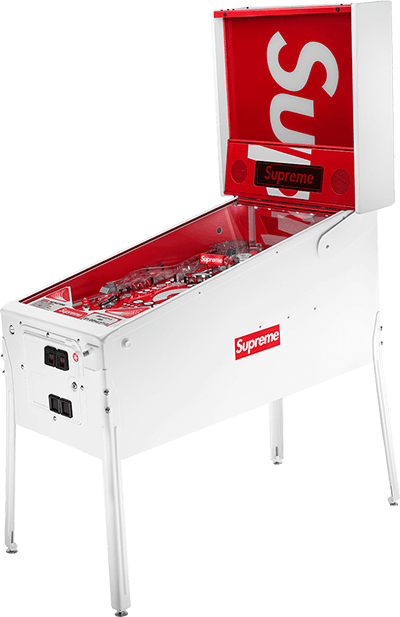 Board Games and Cards Count too!
Alright, we'd like to say that we're waiting for the day we'll get a Supreme x Cards Against Humanity collab. But for now, we'll just have to settle for a collab with the most famous cards company. So Bicycle Cards is one of the most famous playing cards manufacturers. They produce cards that suit the needs of a fun family night and a night at the casino equally. And if Supreme is good at anything, it's linking its name to big brands in different areas. So we got a transparent deck of playing cards that are worth $60+!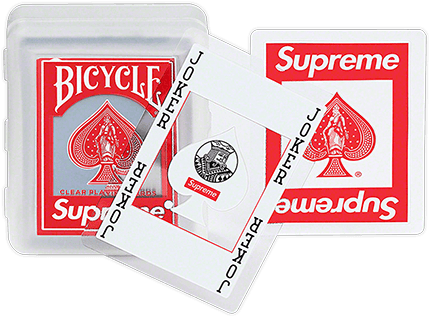 And an even older game dates back to 2012! That was the Supreme Domino set. Although it's not really your mainstream board game, it's a pretty popular game. And having the Supreme logo slapped on the box and the pieces makes them extra precious. Today, you can find a set on eBay for up to $1,500!
Is It Really a Supreme Drop Without NSB?
We love us a very good Supreme release, but we love it even more when it's with NSB. From sneakers to Supreme, NSB will always make sure you get the best chance at owning the best of the best. Keep your eyes on our Twitter because you might be the next lucky winner of an NSB key and more!
S/o @NSB_Bot @SpaceProxies_ and @PulseNotify 🐐for the quick pings!!! 🔥🔥🔥 pic.twitter.com/70FQ6Yy44E

— Eddie (@ewm704) December 7, 2020
Tags: supreme, supreme droplist
Posted in Supreme 0 comments