The SneakerBot™ Google Chrome Broswer Plug-in and the SneakerBotFox Mozilla Firefox Add-On are both very powerful yet simple to use.
Latest versions SneakerBot v2.4 and SneakerBotFox v0.3.
The latest updates require that your shopping carts be empty on Eastbay, Footlocker, Footaction, and Champs Sports prior to enabling the bot. You also must be LOGGED out on every site.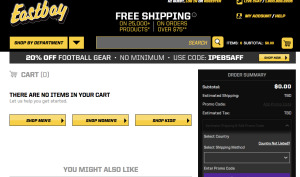 These instructions are for both the SneakerBot and SneakerBotFox. (test mode instructions are at the bottom of this page)
1. Open Google Chrome/ Mozilla Firefox.
2. Click the bot icon in the top right corner of chrome/firefox.
3. Click options.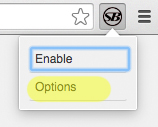 4. Select size, copy and paste URL's from the URL and Keyword page that we update the evening before release day, and enter your information.
URL's can be found here – https://www.nikeshoebot.com/urls-and-keywords/
When using multiple URLs, please separate each URL with a new line by pressing enter once.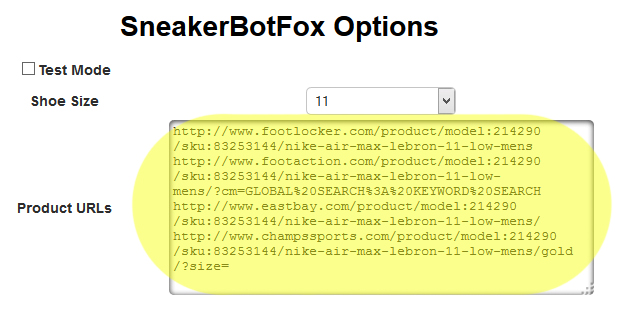 5. Save the options page.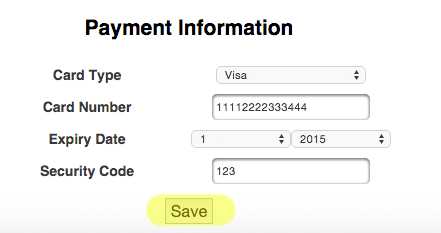 6. Click the bot icon again and then click enable just a minute or two before release time.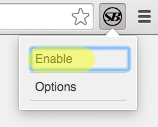 7. The bot will then do all of the following, open the URL's, wait for the timer to hit zero, select your size, and add to cart, processing your order and placing you in line.
*The bots are programmed to retry continuously, however, if the bot gets too many errors and cannot automatically retry, like if the sites give you the overcrowded messages and the bot cannot automatically retry, please refresh until you get a better connection to the site and server.
You can also disable the bot, close the tabs, then enable the bot again and once you get a better connection to their site, the bot will continue working as it should.
8. You then wait your turn in the checkout line, then when it asks to login, guest checkout, or PayPal, you click guest checkout.
9. The bot will then enter all your information and purchase the shoe.
TEST MODE-
To run test mode, you follow the above instructions, except you choose a shoe that is already available for purchase and you do NOT enter your payment and shipping information. When you select the shoe for testing, make sure your size is available and simply copy and paste the URL of that shoe into your options page before saving and enabling. Once you finish your test, remember to disable the bot and ALWAYS REMOVE THE SHOE FROM YOUR CART. Remember, you cannot be logged into the sites and if you have a shoe in your cart when you enable the bot, it will not run, your carts have to be empty before running the bot, and you have to be logged out of all the sites.
Please read the disclaimer.