If you know basketball, then you know how deep its relationship with the sneaker industry goes. While basketball sneakers are dope enough for the performance side of things, they also feature dope aesthetics. Now, whenever we hear about a new endorsement deal with Nike, we know it will be good. And this time, the latest addition to the list of basketball kicks is the Nike Book 1! Here's everything you need to know about these babies and what people think about them. But in case you're in a hurry and want new kicks STAT, here are some of 2023's best basketball kicks!
Devin Booker Is Finally Getting His Own Sneaker!
So, the best time to start our story is the past. The year is 2015, and it's Round 1 of the NBA draft! That year's 13th overall pick was a rookie called Devin Booker. And just like all promising basketball players, Nike hopped on and scored a deal with Booker! Since then, Nike dropped classic kicks with colorways inspired by Devin. The partners renewed their deal in 2018, and again in 2022. However, the 2022 deal extends all the way through to 2029.
Now, the latest extension of the sneaker deal seems to have more in store than just colorways of popular silhouettes. You see, rumor had it that the Nike Book 1 would be the first silhouette by the partners. However, that rumor turned out to be very true when Drake himself appeared wearing the kicks during his tour! In fact, a special "For all the Dogs" shoebox came with the kicks. Oh, and Booker is already teasing these babies on Instagram. So, what do the kicks look like?
Nike Book 1 – A Safe Option or a Disappointing Start?
At first glance, the Nike Book 1 looks pretty simple, especially since we only saw two colorways so far. The kicks feature a low-top upper in a mix of materials like suede and leather. Meanwhile, the tongue features the swoosh and BOOK (for Booker) on the tag! Now, all in all, the kicks look pretty safe and performance-oriented. But that's not what everyone thinks. You see, many people think that the kicks are everything a basketball shoe should be.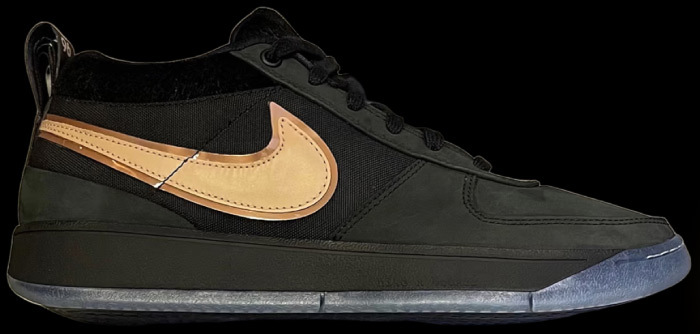 On the other hand, many fans felt disappointed when they saw the silhouette. In fact, some think that Nike got lazy and it recycled the Lebron 20 silhouette. And we already discussed the similarities between Nike Lebron 20 and Ja 1 right here. But anyway, we won't judge just yet, especially since we haven't seen any official pictures or more colorways. And we'll probably have to wait until Holiday 2023 to snag a pair for $150!
Now, if you wanna score a pair of the Nike Book 1, or any other holiday drop, you'll need help. A sneaker bot can give you the upper hand on hot drops! It'll also help you get the hottest kicks in bulk. And if you wanna score some on Nike SNKRS, Shopify, and even Adidas Confirmed, we got you! Click here to learn more about NSB3 and all the features it has to offer. Godspeed!