Today, we're going back in time 27 years, and moving the location all the way to the East. Why? Because the Jordan legacy obviously goes beyond the years and borders! And the upcoming Jordan 1 Low Tokyo Vintage will drop to prove just that. So let's take a look at the cool-looking kicks and all the reasons you'll wanna cop them. And just in case one pair isn't enough, the Summer 2023 Jordan lineup is here for you to check! It seems like the season is loaded with awesome drops.
It All Started at Tokyo's Nike Hoop Heroes in 1996
Before we dive into the details, let's give you some context. Nike Hoop Heroes was a promotional event where Nike rounds up the basketball players it sponsors for some fun games. And 1996 certainly was a cool year because the roster included Michael Jordan, Charles Barkley, Jason Kidd, Michael Finley, Damon Stoudamire, and Carl Lewis. But one moment in that event inspired the upcoming pair.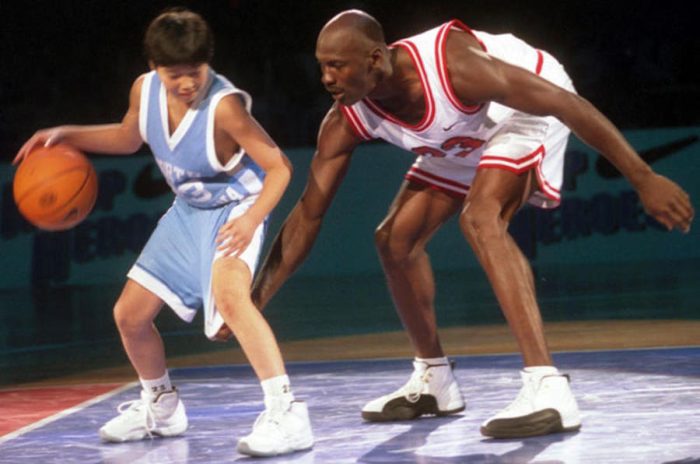 That was when Michael Jordan in his snakeskin Jordan 12 played against a Japanese kid who wore the UNC uniform! The kid in question is Keijuro Matsui, who is 37 in 2023, and still plays pro basketball. So, MJ in the AJ12 and Matsui in the UNC uniform is the inspiration behind Jordan 1 Low Tokyo Vintage. Let's see how that worked out, shall we?
Jordan 1 Low Tokyo Vintage – A Nice Lil Mashup
As we already mentioned, Jordan 12 with its snakeskin leather and UNC colors makes a dope mix. So let's take a look at Jordan 1 Low Tokyo Vintage and see how that happens. First off, the base is white suede, but the overlays are where all the action happens. The toe box features UNC blue leather, while the swoosh comes in grey snakeskin leather… see where this is going? All in all, the kicks look very nice, and the colors just work!
Release Info
Jordan 1 Low Tokyo Vintage will drop on March 25, 2023, exclusively on Tokyo23 and Atmos locations. These babies will retail for $120, and they're gonna be worth it because you can flip them for $250 on average. And that number can go up and down depending on the size you pick. But why not get multiples just to be safe?
Wanna Cop a Jordan 1 Low Tokyo Vintage or Two?
With this drop being regional, you'll wanna know how to ship these babies, but first things first. You'll need the best sneaker bot you can find, especially since many people will be going after the kicks. So don't go looking too far, because NSB has your back in every region! And the upcoming NSB3 is upping the game with the new upgrades. Make sure you check all these updates out here, and get your copy today to take your botting game to the next level! Godspeed