How to Cop the Air Max 1/97 Sean Wotherspoon on Air Max Day
In 2017, Nike held a competition in which they chose 12 RevolutionAIRS to design their own Air Max. Gaining the most votes in Nike's Vote Forward, the design of store owner, Sean Wotherspoon, was chosen to be the new Air Max. His contest-winning hybrid, the Air Max 1/97 Sean Wotherspoon releases on Air Max Day 2018 alongside the OFF-WHITE x Air Vapormax.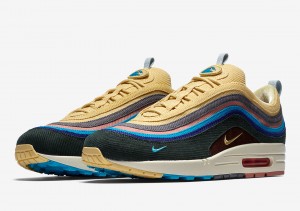 Features on the Air Max 1/97 Sean Wotherspoon
As the word "hybrid" suggests, the Air Max 1/97 Sean Wotherspoon has a mix of features from both the Air Max 1 and Air Max 97. You can't miss the recognizable Air Max 97 upper. Just below, comes an Air Max 1 sole with a red air unit.
The pattern of colorful corduroy stitched together will look great once they start to fray. The wear gives the shoe more character. That also means the shoe will last a long time in your collection.
The corduroy upper was inspired by the Nike hats from the 80's. Another 80's inspired feature is the velvety material on the inside of the shoe, on the sock-liner and inside of the tongue. When you buy the shoes, you get four sets of different colored laces. You also get playful velcro patches and a corduroy bust bag with the shoe.
Today, my size of the Nike Air Max 1/97 Sean Wotherspoon costs $1,000 on StockX, what about yours?
 Early Links & How to Cop
According to Hypebeast, "The initial drop sold out in seconds." As far as we know from Nike, the product will release on the SNKRS app. So prepare yourself for the next release of the Nike Air Max 1/97 Sean Wotherspoon on the SNKRS app on March 26 at 10 a.m. EDT. Here are some tips!
Be at the right place at the right time.
Turn on all your notifications on the app and post notifications on Twitter.
Prepare your credit card is good and payment information.
Review your shipping information.
Use AutoFill so you don't have to manually fill in everything/learn how to autofill with Touch ID on iPhone.
Don't let discouragement get the best of you if you have to wait for a few minutes.
There are also some early links for online raffles to keep an eye on until the 26th:
Don't cry if you didn't get the shoe this time! Don't cry if you didn't get the shoe this time! Keep your eyes open for good deals online if you really want the Sean Wotherspoon. It won't matter even if you buy a very near deadstock. For less than the cost of the deadstock one, it'll still look good, because remember these shoes are made to fray.
For more articles like this, visit our blog.
Posted in Nike 0 comments