2008 sounds like a lot of time for many, but for Nike, it's just enough time to continue a line! But you know Nike, they rarely give us the pair we really want. Instead, they give us a tribute to the classic or retro it with a slight change. Well, gotta keep the money ball rolling one way or another! And in 2023, we're gonna have volume two of 2008's iconic Air Max 1 Keep Rippin Stop Slippin. So, let's check out everything we know about this release, shall we?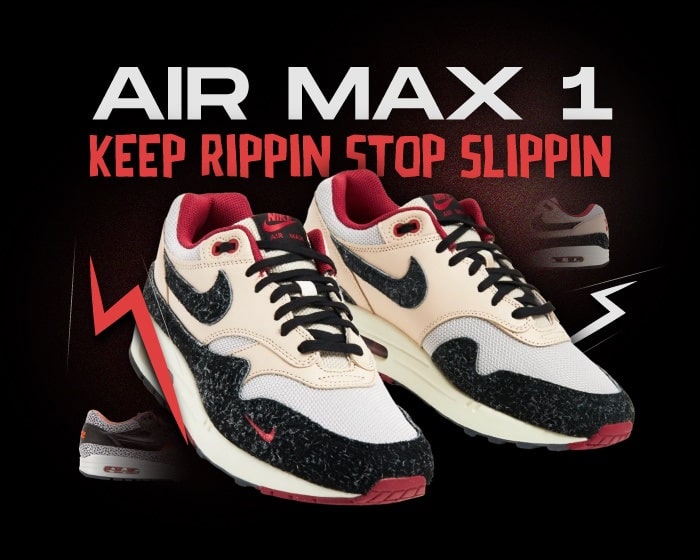 2008 Gave Us the "Greatest Hits"!
We're not joking, in 2008 Nike dropped the Greatest Hits pack, and it included some pretty solid sneakers! The first pair was the Air Max 1 Keep Rippin Stop Slippin with its hits of orange and safari print. Second, we got the Nike Air Stab Runnin Gunnin with its solid black and infrared colorway. Finally, the King of the Mountain Air Max 90 completed the pack with its colorful design and Nike Mowabb tribute. The colorways all made a comeback in an Air Max 95 tribute collection in 2018! And now, we'll get a new take on the kicks through the Air Max 1 Keep Rippin Stop Slippin 2.0.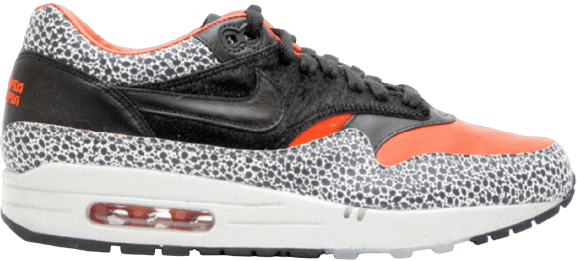 Air Max 1 Keep Rippin Stop Slippin 2.0 – The 15-year-old Sequel!
A decade and a half later, we finally have a sequel to the 2008 classic! However, the upcoming Air Max 1 Keep Ripping Stop Slippin looks nothing like the OG. For starters, the pair comes in a grey mesh pase a pearl white leather overlays. Then, the swoosh and mudguards come in fuzzy black suede. Finally, hits of red on the tongue, sockliners, and outsole complete the look. And just to make sure we don't fail to recognize the tribute, the heels feature "Keep Rip'n Stop Slip'n" embroidery. So all in all, this is a pretty solid colorway to continue the Greatest Hits legacy with.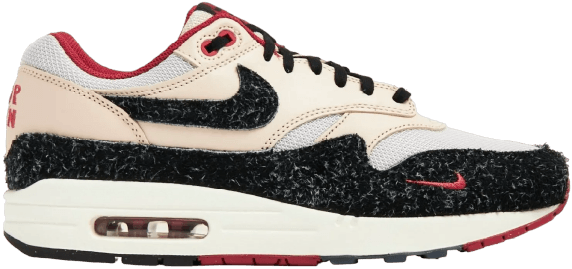 Release Info
Air Max 1 Keep Rippin Stop Slippin will hit Nike SNKRS and select retailers on November 28, 2023, for $160. Now, whether you're a sneakerhead, collector, or reseller, you'll want in on these babies. Why? Because the OG 2008 pair is worth up to $700 on the aftermarket. And even if you're not in it for the profit, the kicks are a pretty cool pair to flex. Just make sure it's the right silhouette for you!
Wanna Score the Air Max 1 Keep Rippin Stop Slippin?
Whether you wanna score these babies or any other elusive drop, you'll need help. But how exactly will you manage that? The answer to that is to get the best all-in-one bot you can find. And to cut down that hunting time for you, NSB is right here for you. From Nike SNKRS to Shopify and more, NSB can boost your odds on drop day! Not only that, but it's always there with the latest upgrades to keep up with the industry. And if you wanna keep up with the latest sneaker and botting industry news, check out our blog. Godspeed!