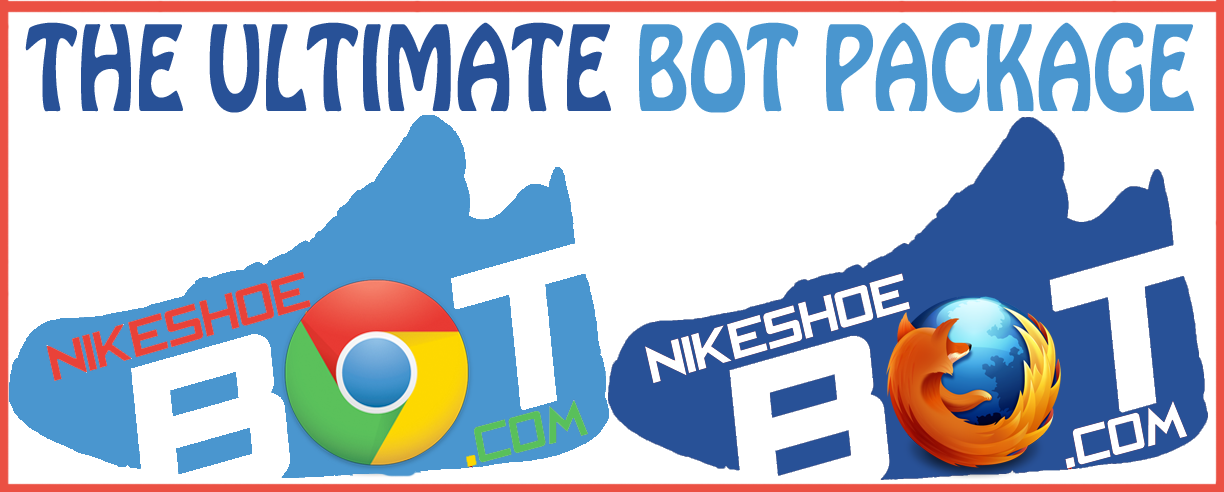 ***OUR NIKESHOEBOT2 AND NIKESHOEBOTFOX BOTH WORK WITH THE NIKE COUNTDOWN TIMER RELEASE METHOD.
YOU WILL JUST NEED TO ENABLE THE BOT EARLIER, BEFORE THEY TWEET THE LINK FOR THE COUNTDOWN TIMER, OR YOU CAN SET THE BOTS UP TO FOLLOW YOUR TWITTER AND TWEET THE LINK TO THE COUNTDOWN TIMER YOURSELF AFTER THEY TWEET THE LINK AND THE BOT WILL WORK JUST AS IT ALWAYS HAS AFTER THE TIMER HITS ZERO.
WE WILL BE UPDATING EVERYTHING ON OUR SITE TO INCLUDE THESE NEW INSTRUCTIONS ON HOW TO USE THE NIKESHOEBOT2 AND NIKESHOEBOTFOX.
NikeShoeBot.com is offering the ULTIMATE BOT PACKAGE for a limited time ONLY!
[purchase_link id="16505″ text="Purchase" style="button" color="blue"]
This package includes the FOUR most successful bots EVER CREATED!
NikeShoeBotFox (Mozilla Firefox Nike.com bot)
SneakerBotFox (Mozilla Firefox Eastbay, Footlocker, Footaction, and ChampsSports)
NikeShoeBot2
 (Google Chrome Nike.com bot)
SneakerBot
(Google Chrome Eastbay, Footlocker, Footaction, and ChampsSports)
All 4 bots can be ran simultaneously on the same computer to maximize your success rates AND cop MULTIPLE pairs of the same shoe!
[purchase_link id="16505″ text="Purchase" style="button" color="blue"]