A New Jordan 12 Celebrates the Iconic Jordan Flu Game
The Air Jordan 12 silhouette is pretty impressive. However, it didn't get the hype it deserves like other silhouettes. But just like hype silhouettes have their bad days, normal silhouettes get their stardom moments. When Michael Jordan rocked the Jordan 12 on that fateful day, little did he know that he made sneaker history! Jordan Flu Game became an undying sneaker thanks to a misfortune. And years later, Jordan 12 Reverse Flu Game is paying homage to the OG Jordan 12 Flu Game! So are you ready for a wave of nostalgia? Because we sure are.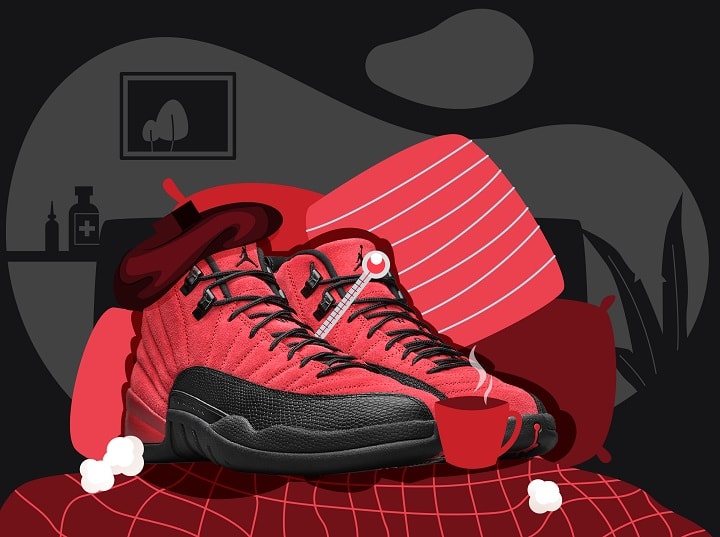 How Jordan Flu Game Made History
How can a pair of kicks be as important on the court as it is off of it? Well, we'll tell the whole story of how Michael Jordan and his kicks made it to basketball lore! Just like every sneaker name, this one has a story to it too. So let's take a leap back to 1997, to the night before Game 5: Chicago Bulls vs Utah Jazz. The 1997 NBA finals were brutal, and with a 2-2 tie, the Bulls needed all of Jordan's power. Unfortunately, though, the night before Jordan got sick, like fetal-position-sick. Odds were, Jordan won't attend the game, especially that he missed most of the next morning's activities. But Jordan showed up thanks to sheer willpower and competitiveness. So on June 11, 1997, with flu-like symptoms, Jordan made it to the game and scored 38 points! Not only that, he managed to throw in a tie-breaking three-pointer. So after the 90-88 win, the Jordan Flu Game became a pair of kicks for the ages. Just like the Jordan 1 Breds, it has to this day a sentimental value to the fans. The sneaker industry realized that Air Jordan 12 Flu Game was there to stay. Proof of that is the upcoming Jordan 12 Reverse Flu Game!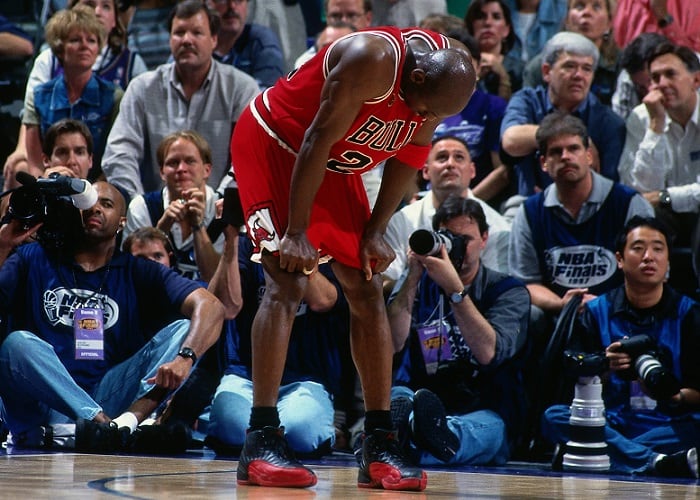 Jordan 12 Flu Game
The 12th silhouette became a phenomenon among sneaker fans and Bulls fans alike. The Air Jordan 12 Flu Game marked a turning point for the silhouette. It first released back in June 1997 and retailed for $135. Today, you can find the OG at about $600.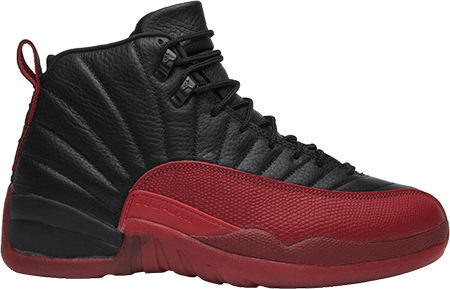 The Air Jordan Flu Game restocked several times throughout the years. The first time was in 2003, and this edition resells for around $500! Six years later the Jordan 12 Flu Game reappeared, but it wasn't the same. Jordan Brand swapped the black leather upper with suede. Another interesting detail is the sick face on the heel and tongue. Finally, the number (97) and points (38) commemorate the event on the heels too! With all that said, the 2009 remake retailed for $150 and currently resells for an average of $550. The last retro took place in 2016, with a look similar to the OG. The kicks retailed for $190, and you can get them off the aftermarket for around $450!
Jordan 12 Reverse Flu Game
Maybe it's because it hasn't been a long time yet. Maybe Jordan Brand is looking for ways to bring more hype to the silhouette. After all, the 12s are more than Jordan Flu Game 12s. However, scraping off the whole colorways isn't fun because the Bred colorway is essential to Jordanheads. The solution? Air Jordan 12 Reverse Flu Game. The new kicks feature a black midsole along with black leather mudguards. Red suede covers the whole upper and that gives a new air of luxury to the sneakers!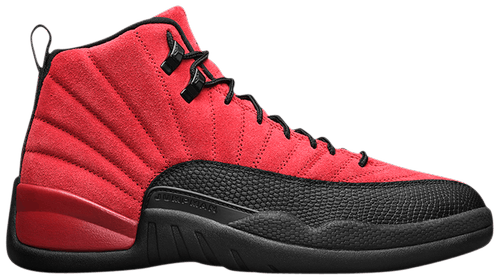 The new Jordan 12 Reverse Flu Game will drop on December 26, 2020, and it'll retail for $190. And if you miss out on this release, you'll be paying around $500. So, do you need that kind of regret? Luckily, NSB's got your back, and if you missed our Cypher Monday discount, try your luck on Twitter. Who knows? You might be our next winner!
🔄RT WINS NSB2.0

CYPHER MONDAY IS NOW LIVE🔥

⏲️HUGE LIMITED TIME DISCOUNT⏲️https://t.co/gxMnHPR1HR pic.twitter.com/5PhcURhlGy

— NSB Bot (@NSB_Bot) November 30, 2020
Tags: Air Jordan 12, Air Jordans, Jordan, Michael Jordan
Posted in Jordans 0 comments